Best of Kyrgyzstan: Discover Finest Lakes, Steppe Land & Historic Towns – 8 days (SR-05)
Kyrgyzstan is the heart of Central Asia with unbeatable mountain landscapes, shepherd cultures, nomads and rolling summer pastures (jailoos). Of all the countries in Central Asia Kyrgyzstan with its visa-free travel, network of homestays and souvenirs for sale, is the easiest for westerners to travel in. Spring, summer and autumn are seasons to travel in when hikes and roads generally accessible. This tour takes in the capital, Bishkek, with its museums and restaurants as well as the country's finest lakes, canyons and steppe land.

On arrival you'll be met by our guide and driver and transferred to your hotel. Trip to Ala Archa Natural Park where you can hike along the river taking in the mountain scenery. After a picnic, you'll return to the city enjoying a short city tour.

Day 2. Bishkek - Son Kul Lake

Travel to Son Kul Lake over the Kalmak Ashuu mountain pass (3,445m). Meet a local Kyrgyz family. Dinner and overnight in a traditional yurt camp.

Day 3. Son Kul Lake – Tash Rabat Caravanserai (280 km)

Travel to Naryn by car over the Moldo Ashuu mountain pass (3,665m). Lunch with a local family in Naryn town. Drive further to Tash Rabat Caravanserai. Overnight in a yurt.

Day 4. Tash Rabat Caravanserai – Naryn town – Kochkor village

A drive to Naryn – famous for traditional felt-making and 'shyrdak' felt rugs. Continue to Kochkor village over the Dolon pass (3,030m). Dinner and overnight in the houses of local people.

Day 5. Kochkor village – Jety Oguz canyon - Karakol town

Today we will leave for excursion to the scenic Jety-Oguz gorge. We will have a traditional dinner with a local family and overnight in a guesthouse.

Day 6. Karakol – Cholpon Ata town (150 km)

Enjoy Karakol - the fourth largest city in Kyrgyzstan and a major tourist destination. Dinner and overnight in a hotel on the lakeshore.

Day 7. Cholpon Ata town – Bishkek

Today, we will drive along the Northern lakeshore to Bishkek. En-route we will stop at the Burana archaeological and architectural site. Lunch with in a local family, overnight in a hotel in Bishkek.

After breakfast you will be transferred to the airport for your flight back home.

Click here to view detailed day-by-day itinerary of this tour

Tour Inclusions

Not included

Quick Facts
Season

: Summer

Days

: 8

Group Size

: 4-12

Tour Grade

:
Included in the Tour Price
International flights
Our advertised package price is based on economy flights from / to London. If you depart from a regional airport in the UK or another country, there might be additional surcharges for international airfares. Upon booking a tour you will be offered various flight options. Please note, the package price depends on the availability of flight tickets and will be reconfirmed by your travel consultant. The airfare is not guaranteed unless ticketed. We advise to book sooner than later as the airfare may go up closer to your departure date, especially during high seasons.
Accommodation
All accommodation at your destination is included in the holiday price. Hotel category - according to the package type selected.
Guided tours & cultural programme
All tours with entrance fees listed in the itinerary are included in the holiday price. There will be an English-speaking guide on all tours. Please note, we can arrange guides speaking other languages upon request. Please let us know your preferences.
Full-board meals
Full board (breakfast, lunch and dinner) each day. Service begins with dinner on the day of arrival and ends with breakfast on the day of departure. Depending on the itinerary you may be served a packed lunch on your tour. Please advise us if you have any special dietary requirements.
Ground transportation
All domestic transportation at your destination is included as per the itinerary. In the countryside we use chauffeur driven 4WD jeeps and in the city areas – minivans or coaches. All vehicles have air-conditioning system.
Airport & railway transfers
All airport and railway transfers as per itinerary are included in the tour price. We will also provide airport transfers if you arrange your own arrival / departure flights regardless of the time of the flight, you will need to let us know your flight details. We operate all transfers 24 hours a day.
Not included
Personal travel insurance
Personal travel insurance is not included in the holiday price. It is advisable to take out your travel insurance at the time of booking your trip as cover will commence for pre-departure cancellation from the policy issue date. You can arrange your personal travel insurance on
our website
.
Optional excursions and services
Optional excursions and services not listed in the itinerary. Please let us know if you wish to book any additional excursions.
On arrival you'll be met by our guide and driver and transferred to your hotel. You'll then begin your Kyrgyz adventure with a trip to Ala Archa Natural Park (45 km away) where you can hike along the river taking in the mountain scenery. After a picnic, you'll return to the city, stopping at Baytik Baatyr mausoleum and then visit key city sights like Ala Too Central Square, State History Museum, Bishkek's own White House, Parliament House, Lenin Statue and the Change of Guard of Honor. (D)
Day 2. Bishkek - Son Kul Lake
On day two you will be introduced to local hospitality and meet those leading traditional nomadic ways of life. To get there you will travel through the narrow Boom gorge, passing by the Orto Tokoi water reservoir, travelling over the Kalmak Ashuu mountain pass (3,445m) before lunching with a Kyrgyz family. Dinner and overnight in a traditional yurt camp. Driving distance – 360 km (225 miles). (B,L,D)
Day 3. Son Kul Lake – Tash Rabat Caravanserai
Today you will travel to Naryn by car over the Moldo Ashuu mountain pass (3,665m)which affords stunning views. Lunch will be taken with a local family in Naryn town. You will then travel to Tash Rabat where you will visit an old Caravanserai, this was once an inn for merchants and travellers. It is an enormous stone structure dating from the 15th century. It is one of the best preserved Silk Road sites in the world. Driving distance – 280 km (175 miles). (B,L,D)
Day 4. Tash Rabat Caravanserai – Naryn town – Kochkor village
A drive to Naryn – famous for traditional felt-making and 'shyrdak' felt rugs – where we will also visit the Central mosque, central square and art gallery. You can buy shyrdaks easily in Kyrgyzstan, many have motifs from nature, like animal horns and mountains. We will then continue to Kochkor village over the Dolon pass (3,030m). In Kochkor we will visit a handicraft museum-shop. Driving distance – 230 km (143 miles). (B,L,D)
Day 5. Kochkor village – Jety Oguz canyon - Karakol town
Today we will leave for excursion to the scenic Jety-Oguz gorge. Situated in a picturesque canyon on the northern slope of the Terskey Ala-Too range, about 25 km South West of Karakol, it lies at an altitude of 2,200 m. The unusual red sand rock formations are highly photogenic. The Broken Heart and Seven Bulls rock formations have become symbols of the Issyk Kul region and are picture postcard perfect. We will have a traditional dinner with a local family and overnight in a guesthouse. Driving distance – 270 km (168 miles). (B,L,D)
Day 6. Karakol – Cholpon Ata town
Karakol is the fourth largest city in Kyrgyzstan and a major tourist destination. It is a hub for those hiking, trekking, skiing and mountaineering in the high central Tian Shan to the south and east. Here, we will visit Dungan mosque, a Russian Orthodox cathedral and the Przhevalskii museum. We will also visit some Scythian burial mounds and petroglyphs. Lunch will be in a local cafe. Dinner and overnight in a hotel on the lakeshore, with time to visit the beach. Driving distance – 150 km (93 miles). (B,L,D)
Day 7. Cholpon Ata town – Bishkek
Today, we will drive along the Northern lakeshore to Bishkek. En-route we will stop at the Burana archaeological and architectural site. Burana is the historical city of Balasagun, the capital of the Karakhanids State in the 10th - 12th centuries. Today, you can see the ancient minaret and ruins of three mausoleums. It is thought that Apparently Balasagun was so important that Genghis Khan's Mongol Horde spared the city from destruction. Lunch with in a local family, then overnight in a hotel in Bishkek. Driving distance – 280 km (175 miles). (B,L,D)
After breakfast you will be transferred to the airport for your flight back home. (B)
Want to travel on different dates?
Please see below for our group tour dates, if you would like to travel on a different day, please
let us know
and we will come back to you with an offer. There might be additional surcharges for a private tour but all depends on the number of people in your party and your travel preferences.
Shah Palace Hotel is located in Bishkek, it is a 8-minute walk from Alato Square and Bishkek Park Shopping Centre. The distance to Bishkek railway station is 3 km, and Manas International Airport is 30 km away.
Each room features TV and air conditioning, refrigerator, private bathrooms with a hairdryer and complimentary toiletries.
There is a 24-hour front desk and a bar at Shah Palace Hotel. The hotel offers free parking and free WiFi access. The hotel is a non-smoking property.
FACILITIES
Bar, Restaurant (à la carte), room service
24-hour front desk
Express check-in/check-out
Lift

Air conditioning
Luggage storage
Laundry & ironing service
Free WiFi is available in all areas
Royal Beach was opened in June 2002. It is located on a beautiful shore of Issyk Kul Lake, 235 km from Bishkek and occupies 17 hectare. Hotel is surrounded by beautiful trees and garden of flowers. There are 65 elegant rooms in a 3-floor cottage including 6 (3-room) suites, 8 (2-room) suites, 1 single suite, 33 double rooms and 16 triple rooms.
The hotel features a small indoor swimming pool.
FACILITIES
Internet access
Health Club (massage)
Indoor swimming pool
Billiard
Tennis court
Yurt Camp "Ak-Sai" is located on the north shore of the Lake Issyk Kul, 20 km from Tolok Pass. It has 10 yurts with 1 dining and 1 bar yurt. It has traditional Kyrgyz style interior. The yurt floor is covered with traditional felt rugs, which are called "shyrdaks". In addition to the national cuisine European and vegetarian dishes are serves. The yurt camp uses sun energy to heat up water, there are several solar panels installed.
Accommodation in yurts include 4-6 people in one yurt with toilets outside, there are no showers available. For extra charge you can use the local sauna (heated room with hot water to pour on yourself) which can be ordered on spot, price is about 5 - 7USD.
FACILITIES IN YURTS
wash-basin
folding screens
transformable beds with warm blankets and sleeping bags
cloth hanger, chair for suitcases
There are also hot water bottles / bags available upon request.
Tash Rabat Yurt camp is located 90 km from Naryn and 100 km from the Torugart, in 9 km to the south from the road to the Kyrgyz-Chinese border. Just 10 minutes-drive from the yurt camp there is an ancient caravanserai Tash-Rabat - one of the ancient relics of the Silk Road.

There are 6 yurts in the camp. Each yurt is with 5-6 sleeping places on wooden beds with warm blankets and linen. All yurts have an oven for warming up.
The "Green Yard" Guest House is an award winning, family owned business, located at the foot of the Tian Shan mountains in Karakol. Location is ideal for those wishing to explore Jety-Oguz, Karakol and Ak-Suu gorges that rise into the mountains to the south of Karakol. Green Yard in 5 minutes from the town center and the shores of the lake Issyk-Kul. For those interested in winter sports the new ski center at the Karakol ski base lies 30 minutes from front door.
Open year round the "Green Yard" Guest House has 15 rooms. Each room is equipped with satellite TV, toilet and showers with hot and cold water, hair-dryer. South-facing windows of the buildings offer beauty views of Tian Shan Mountains.
FACILITIES
Meals upon request (no restaurant)
Non-smoking rooms
Family rooms available
Outside parking

Sauna
Laundry service
Internet access
Single, double room accommodation with shared facilities. It is a great opportunity to stay with locals and see how Kyrgyz people live, their everyday lives and traditions. Hospitality is key here and all foreign guests are received with great love! Kyrgyz people take pride in their hospitality traditions and this will be surely one of your visit's highlights.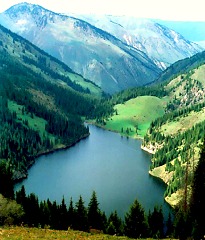 Son Kul Lake
Song Kul Lake (literally meaning the "following lake") is an alpine lake in northern Naryn Province. It is the second largest lake after Issyk Kul, and the largest fresh water lake in Kyrgyzstan. It has an area of about 270 km2 with maximum length of 29 km and breadth of about 18 km, the lake depth is 13.2 m. Song Kul is surrounded by summer pastures and mountains. The area is inhabited and is safely accessible by unpaved roads only from June to September.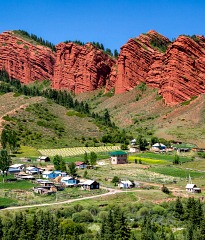 Jety-Oguz gorge
The Alpine health resort Jety-Oguz lies near the river at the altitude of 2,200 m. Situated in a picturesque canyon on the Northern slope of the Terskey Ala-Too range about 25 km South West of Karakol. It is a lovely place for one day walk and at the same time for many day treks, starting from easy form and up to the hardest. It is the place where you can see the real life of Kyrgyz people and walk along the gorge, visit nomad's yurt. Jety-Oguz gorge is well known for its striking red sandstone rock formations ("Seven Bulls" from which the valley takes it name) - one of the most beautiful places in Kyrgyzstan.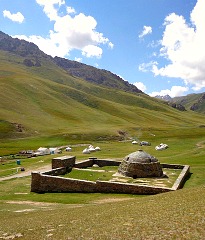 Tash Rabat Caravanserai
It is a well-preserved 15th century stone caravanserai in At Bashy district, Naryn Province, Kyrgyzstan. It is located approximately 520km from Bishkek at the altitude of 3,200 meters. It was a rest place for merchants, ambassadors, travellers and other world wanderers. It is the largest stone built structure of the Central Asian in 15th century. Lost among the wilderness, far from inhabited locations, the caravanserai looks monumental. It is probably the best preserved Silk Road site you will find and no other retains as much of its original atmosphere.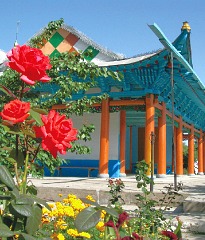 Karakol City
It is fourth largest city one of Kyrgyzstan's major tourist destinations, serving as a good starting point for the excellent hiking, trekking, skiing and mountaineering in the high central Tian Shan to the south and east.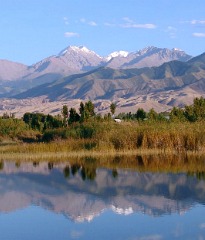 Issyk-Kul Lake
With its high location at 1,609 m above sea level and a huge surface area of 6,206 sq. km (179 km long and 60 km wide) Issyk-Kul is the second largest alpine lake in the world after Lake Titicaca in South America. Lake Issyk-Kul still keeps many secrets. Recently some reports were released about an astonishing discovery of ruins at the bottom of the lake. The ruins are of the ancient city of Chigu, the capital of the Usuni State and the trade centre of the Tian Shan on the Great Silk Road and date back to the 2nd century BC.