Trans-Mongolian East-West: Beijing - Mongolia - Baikal - Yekaterinburg - Moscow - St. Petes (TS-17)
An exciting Trans-Mongolian railway adventure, through China, the Mongolian steppe, Siberia and Russia, all the way to St. Petersburg - one of the most beautiful cities in the world. See the major sightseeing landmarks along the way, learn and experience three different cultures. This is a truly once-in-a-lifetime experience!

Book now

from £2,695 per person,

20 days

Our guide will meet you at the airport. In the evening we will visit an old part of Beijing - hutong and enjoy a guided ride by rickshaw.

We will visit the magnificent Summer Palace, the famous Forbidden City and Tiananmen - the largest city square in the world.

We will tour the Great Wall - a symbol of Chinese civilisation, on our return to the hotel we will also visit the Olympic Park.

Early in the morning we board our international train to Mongolia.

Day 5. Ulan Bator - Terelj

We will drive to Chinggis Khaan monument and explore Terelj National Park. We stay for overnight in a traditional ger.

Day 6. Terelj - Ulan Bator

Return to Ulan Bator. After a guided city tour and visit to the National History Museum we start our trip to Russia by comfortable train.

We continue our journey to Russia.

Day 8. Irkutsk - Listvyanka

Our guide will meet you upon arrival in Irkutsk and transfer to Listvyanka village on the shore of Baikal. Enjoy your free time.

Free time in the village.

Day 10. Listvyanka - Taltsy - Irkutsk

We will visit the Wooden Architecture Museum and have a guided city tour around Irkutsk. In the evening we continue our train journey.

We continue our train journey to Western Siberia.

Arrival in Yekaterinburg. Our driver will transfer you to the hotel.

We will explore the place of execution of the last Russian tsar and his family. We will also visit the obelisk "Border of Europe and Asia".

In the morning we board our overnight train to Moscow.

After a short rest at the hotel we will start exploring Moscow and visit the Red Square, Lenin's Tomb and St. Basil's Cathedral.

We will explore the Kremlin and the Armoury. We will also have a tour of the Moscow Metro. In the evening we board our train to St. Petersburg.

We start our discovery of St. Petersburg with a guided city tour by car.

We will have a guided tour of Yusupov Palace.

A guided tour of the Hermitage - one of best museums of the world.

Transfer to the airport.

Click here to view detailed day-by-day itinerary of this tour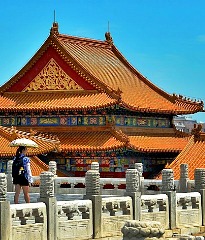 Beijing
Beijing is the capital of the most populous country in the world, the People's Republic of China, and it is also the second largest city after Shanghai. Beijing literally means...
Read more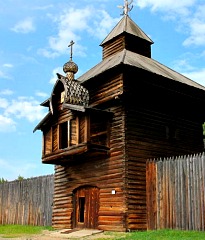 Irkutsk
Irkutsk is one of the largest Siberian cities founded in 1661. People from all over the world go there to experience the real Siberia, to enjoy the unique architecture of the woode...
Read more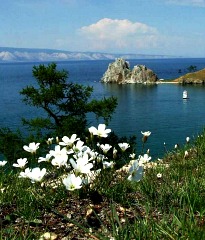 Listvyanka
Listvyanka is a small village located 70 km (43 ml) from Irkutsk, The main reason people come to Lisvyanka is to enjoy the magnificent Lake Baikal. Besides plenty of walking opport...
Read more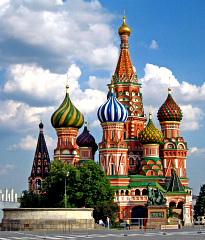 Moscow
There is hardly a person in the world who has never heard of Moscow. Here in Moscow, more than anywhere else in Russia, one can feel the atmosphere of the Russian Renaissance - the...
Read more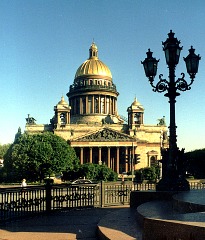 St. Petersburg
St. Petersburg is probably one of the most beautiful cities in the world, and after you visit it, you can understand why. The most European of all Russian towns and cities, St Pete...
Read more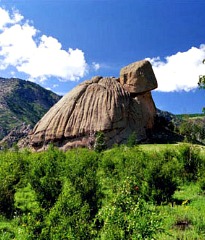 Terelj National Park
Gorkhi Terelj National Park is one of the Mongolia's finest and best-known national parks established in 1994 and located just an hour's drive away from the capital. It...
Read more
Ulan Bator
Capital of Mongolia was formerly called Urga. It was renamed Ulan Bator after a declaration of republic and the abolition of monarchy in 1924. Ulan Bator literally means Red Hero a...
Read more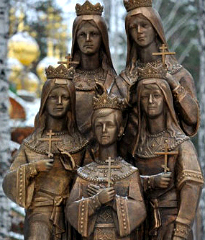 Yekaterinburg
Yekaterinburg is known for the tragic events of the Socialist Revolution. It became the place of imprisonment and subsequent execution of the last Russian tsar family, the Romanovs...
Read more
Tour Inclusions
Not included
Quick Facts
Season

: Four Seasons

Days

: 20

Group Size

: 2-10

Tour Grade

:
Included in the Tour Price
International flights
Our advertised package price is based on economy flights from / to London. If you depart from a regional airport in the UK or another country, there might be additional surcharges for international airfares. Upon booking a tour you will be offered various flight options. Please note, the package price depends on the availability of flight tickets and will be reconfirmed by your travel consultant. The airfare is not guaranteed unless ticketed. We advise to book sooner than later as the airfare may go up closer to your departure date, especially during high seasons.
Accommodation
All accommodation at your destination is included in the holiday price. Hotel category - according to the package type selected.
Guided tours & cultural programme
All tours with entrance fees listed in the itinerary are included in the holiday price. There will be an English-speaking guide on all tours. Please note, we can arrange guides speaking other languages upon request. Please let us know your preferences.
Meals on Transsib
Breakfasts in the hotels in Russia, full board in Mongolia and China are included in the holiday price. No meals are included on the train. While on the train you can either use a restaurant carriage or buy food from local vendors or shops. There is always hot boiled water available on the trains which makes possible to prepare instant food.
Domestic transport at your destination
All domestic transportation at your destination is included as per the itinerary: air conditioned vehicles, 2nd class train, economy flights if applicable. Any 1st class upgrade for train, higher class for air travel are subject to surcharges. For sightseeing we use a comfortable coach, car or minibus; or can also go on foot.
Airport & railway transfers
All airport and railway transfers as per itinerary are included in the tour price. We will also provide airport transfers if you arrange your own arrival / departure flights regardless of the time of the flight, you will need to let us know your flight details. We operate all transfers 24 hours a day.
Visa fees
Standard visa processing for UK residents is included in the tour price. Upon your booking we email detailed guidance notes how to complete the visa forms. All application packs are checked by our visa department before submission to the relevant consulates. If you are based overseas we will email all required paperwork for you to apply for the visas in the local consulate. Please read more about required visas in the tour description or our country guides on this websites.
Not included
Personal travel insurance
Personal travel insurance is not included in the holiday price. It is advisable to take out your travel insurance at the time of booking your trip as cover will commence for pre-departure cancellation from the policy issue date. You can arrange your personal travel insurance on
our website
.
Optional excursions and services
Optional excursions and services not listed in the itinerary. Please let us know if you wish to book any additional excursions.
Arrival in Beijing. Our driver will meet you in the arrivals sector. Transfer to the hotel. We will start with a 'Hutong by rickshaw' guided tour in one of the oldest parts of Beijing. 'Hutong' generally mean a city area with narrow streets, today many hutongs were demolished to make way for new modern roads and buildings. However, some hutong areas have been protected. The rickshaw will also take us to the famous Shichahai Lake and the Drum Tower in the centre of old Beijing. You can also take an optional boat trip. (D)
Today, you will see many of Beijing's key tourist sights. We start with a guided tour of Tiananmen Square, the largest city square in the world, covering 440 thousand square metres. Then it is on to the famous Imperial palace and the Forbidden City, listed by UNESCO as the largest collection of preserved ancient wooden structures in the world. We end at the Summer Palace, 15 kilometres (9.4 miles), from central Beijing. (B, L, D)
Day 3 - Tuesday - Beijing
A highlight of the whole trip – a guided tour of the Great Wall of China – a symbol of Chinese civilisation and one of the wonders of the world. We will visit the Badaling Great Wall situated in Yanqing County, approximately 70 kilometres (44 miles) north of Beijing, which is very well preserved. Next, we will visit the Olympic Green, constructed in Beijing for 2008 summer Olympics. (B, L, D)
Day 4 - Wednesday - Beijing
Today, is an exciting travel day where you will travel by 'train K3', one of the most popular ways of getting from China into Mongolia. You will find more foreigners than local people on this train. There are first class (two berth compartments with one lower and one upper berth) and second class (four berth compartments with two lower and two upper berths) carriages on the train. First class compartments also feature an armchair, a small table and a toilet with a shower shared between two neighbouring compartments. Second class compartments do not have private facilities. Hot boiled water is available in carriages and train attendants provide thermos kettles. (B)
Day 5 - Thursday - Ulan Bator - Terelj
Our guide will meet you at the railway station then we will drive to the Chinggis Khaan monument located at Conjinboldog on the banks of the Tuul River, 33 miles east of Ulan Bator. It is a 40-metre tall statue of Chinggis Khan on horseback, the biggest equestrian statue in the world. Next, we go to Terelj National Park for a guided trip. The dramatic Mongolian landscapes are breathtaking. Terelj National Park is famous for its unique granite rock formations, pristine alpine scenery and diverse flora and fauna. We will explore Turtle Rock and after lunch at the camp we will hike to Aryabal monastery. We will stay overnight in a traditional Mongolian ger (means "home") - a sturdy wood and felt type tent. In winter we stay in a wooden lodge. (L, D)
Day 6 - Friday - Terelj - Ulan Bator
Our driver will meet you at your accommodation. Transfer to Ulan Bator for a city tour to see the Gandan Hiid Monastery, the country's largest remaining monastery, Sukhebaatar square and the Museum of Natural History, where you will see real dinosaur remains. Also, a visit to the National Museum of Mongolian History, one of the leading museums in Mongolia. Tonight, we leave Mongolia and start our trip to Russia by a comfortable train. (B, L, D)
Day 8 - Sunday - Irkutsk - Listvyanka
Our guide will meet you with a signboard upon your arrival in Irkutsk. Transfer to Listvyanka village (approx. 70 km). Enjoy your free time at the lake, at St. Nicolas Russian Orthodox Church and Baikal Lake Museum.
Day 9 - Monday - Listvyanka
Enjoy your free time in Listvyanka village. (B)
Day 10 - Tuesday - Listvyanka - Irkutsk
Our guide will meet you at your accommodation. Transfer to Irkutsk. On our way to Irkutsk, we will stop to visit the open air Wooden Architecture Museum in Taltsy which conveys the lifestyle of 16th – 19th century Russia. Afterwards, we will have a guided city tour around Irkutsk, taking in 18th century churches, brightly painted shutters and log houses. Later, our driver will transfer you to the railway station where you board the comfortable train to Yekaterinburg. Arrival in Yekaterinburg in the evening two days later. (B)
Day 12 - Thursday - Yekaterinburg
Our driver will meet you at the carriage with a signboard with your names. Transfer to the hotel.
Day 13 - Friday - Yekaterinburg
We will visit the majestic Memorial Cathedral on the Blood in the name of all Saints, which was built on the place where the last Russian tsar Nikolay II and his family were slain. Then continue to "Ganina Pit" the unique orthodox monastery. We will also have an excursion to the obelisk that marks the "Border of Europe and Asia". (B)
Day 14 - Saturday - Yekaterinburg
Our driver will meet you at the hotel lobby with a signboard. Transfer to the railway station. Board the fast train 015, which departs Yekaterinburg at 09:19 and arrives in Moscow at 09:23 next day (all times are local). (B)
Arrival in Moscow. Our driver will meet you with a China & Beyond sign board at the beginning of the platform. Transfer to the hotel. Today, many of the key cultural and historical points in Moscow will be covered in a walking tour. We will visit Lubyanka Square (the world-famous KGB centre) and the Teatralnaya Square next to the Bolshoi Theatre. Then we will continue our walk through the small central streets and on to Tverskaya Street – the busiest street in Moscow – before ending with guided tours of the Red Square, the brightly-domed St. Basil's cathedral, Lenin's Tomb and the Kremlin Wall Necropolis.
A brilliant guided day of Moscow sightseeing, taking in the Kremlin grounds, cathedrals, museums and Underground. Starting at the Kremlin, the former residence of the Tsars, the tour moves on to the Armoury Museum - home to invaluable weapons and other works made of precious metals and stones. Lastly, you will get to explore the Moscow Underground – one of the masterpieces of the Soviet era created in the Socialist Realism style. Transfer to the railway station. Our driver will meet you with a China & Beyond sign board at the lobby of the hotel. We will be travelling by the Grand Express overnight train, a hotel on wheels that features spacious sleeping compartments with toilets, showers, air-conditioning, wide sofas, LCD TV, DVD-players and WI-FI. (B)
Day 17 - Tuesday - St. Petersburg
Arrival in St. Petersburg. Our driver will meet you with a China & Beyond signboard at the beginning of the platform. Transfer to the hotel, then onto the St. Petersburg City Tour. One of the most beautiful cities in the world, it is the second largest city in Russia and unlike the busy capital Moscow, it is more of a museum-city. Here, you will explore the Peter and Paul Fortress, St. Isaac's Cathedral and the Church of Christ's Resurrection (The Saviour of the Blood). You will also see the Aurora; the ship whose canon gave Lenin's signal for the beginning of the Great Social Revolution. (B)
Day 18 - Wednesday - St. Petersburg
A very special guided tour of Yusupov Palace, once home to the Yusupov noble family. Rich with murals, carvings, marble and mirrors, the palace retains its genuine interiors and is also linked to the scandalous Grigory Rasputin who is believed as having influenced the later days of the Russian Tsar Nicholas II. (B)
Day 19 - Thursday - St. Petersburg
A guided tour of the world-famous Hermitage, former residence of the Russian Tzars and one of best museums of the world. Home to an amazing 3,000,000 works of art, including works by Leonardo Da Vinci and Titian as well as an outstanding collection of coins and Tsar's jewellery. (B)
Day 20 - Friday - St. Petersburg
Transfer to the airport. Our driver will meet you with a China & Beyond sign board at the hotel lobby. (B)
Want to travel on different dates?
Please see below for our group tour dates, if you would like to travel on a different day, please
let us know
and we will come back to you with an offer. There might be additional surcharges for a private tour but all depends on the number of people in your party and your travel preferences.
COMFORT PACKAGE

Optional train upgrade: there are 5 rail sectors on this journey: Beijing - Ulan Bator, Ulan Bator - Irkutsk, Irkutsk - Yekaterinburg, Yekaterinburg - Moscow, Moscow - St. Petersburg . 2nd class 4 berth compartments are included in the tour price, you can upgrade to 1st class 2 berth compartment if you prefer more comfort and privacy (4 berth compartment buyout where 1st class is unavailable).


| | | | | |
| --- | --- | --- | --- | --- |
| Dates | Excl. flights | Incl. flights * | Single supplement ** | Book |
| 22.09.2019 - 11.10.2019 | £2,695 | £3,295 | £295 | book now |
| 29.09.2019 - 18.10.2019 | £2,695 | £3,295 | £295 | book now |
| 06.10.2019 - 25.10.2019 | £2,695 | £3,295 | £295 | book now |
| 13.10.2019 - 01.11.2019 | £2,695 | £3,295 | £295 | book now |
| 20.10.2019 - 08.11.2019 | £2,695 | £3,295 | £295 | book now |
| 27.10.2019 - 15.11.2019 | £2,695 | £3,295 | £295 | book now |
| 10.11.2019 - 29.11.2019 | £2,695 | £3,295 | £295 | book now |
| 24.11.2019 - 13.12.2019 | £2,695 | £3,295 | £295 | book now |
| 08.12.2019 - 27.12.2019 | £2,695 | £3,295 | £295 | book now |

* Price including flights will be reconfirmed by your travel consultant as we need to know your departure airport, preferred airline, dates and class of travel. Our prices are based on economy fares from London Heathrow.

** Single supplement goes towards single room accommodation at your hotel, ger camp.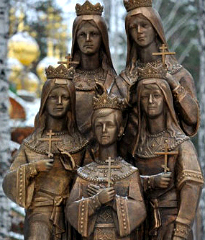 Ganina Yama - burial place of the last Russian tsar
Ganina Yama is a place where on the night of 17 July 1918, after the execution of the Romanovs family, the bodies of the Russian tsar and his family were secretly transported to and thrown into the pit. Nowadays there is a orthodox monastery built on the place of the initial burial place of imperial remains. Seven chapels were constructed at the site, one for each member of the royal family, and each chapel is dedicated to a particular saint.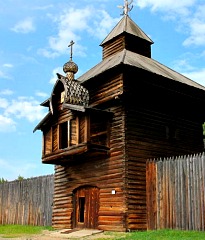 Taltsy Open Air Museum - masterpieces of woodwork
The open air Wooden Architecture Museum in Taltsy is located in a picturesque forest on the bank of Angara river, 23 km (14 miles) from Lake Baikal. It represents settlements of the local Baikal people and gives an overview of the traditional life style in Siberia in the 17-19th centuries. It has a large collection of original wooden houses equipped with old-style furniture and domestic utensils, and "wooden tents" which were brought from several local villages. Unique chance of ethnographical discoveries.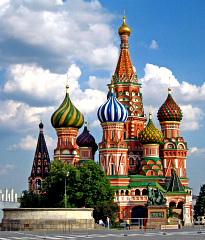 St. Basil's Cathedral - the symbol of Russia
The cathedral rises from Red Square in an irresistible profusion of colours and shapes. Its montage of domes, cupolas, arches, towers, and spires, each bearing a distinctive pattern and hue, have fascinated visitors since its construction in the 1550s. Although St. Basil's was built to commemorate Ivan the Terrible's capture of the Mongol stronghold of Kazan and is properly named the Cathedral of the Intercession, its popular name has long associated it with a ragged prophet who foretold the Moscow fire of 1547.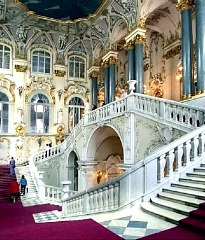 Hermitage Museum
The State Hermitage is one of the largest and oldest museums in the world, founded in 1764 by Catherine the Great. It is housed in five magnificent buildings created by famous architects of the 18th and 19th centuries. The Winter Palace, a former residence of the Russian Emperors, occupies an important place among the buildings of the whole museum complex. The Hermitage holds one of the finest art collections in the world, presenting the development of world culture and art from the Stone Age to the twentieth century.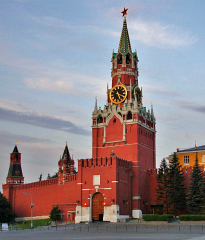 Moscow Kremlin - the heart of Russia
The Moscow Kremlin is one of the largest museums in the world. It includes five palaces, four cathedrals, and the enclosing wall with towers. State regalia, invaluable icons, and treasures of Russian tsars are all stored in the Kremlin chambers and cathedrals. You will also see the Tsar Bell that never rang and the Tsar Cannon that was never fired. The original towered walls were completed in 1157, ten years after Moscow's founding. Later some of the Kremlin's most impressive structures, including the cathedrals were built. If you are lucky enough you can meet the Russian president as nowadays the complex serves as his official residence. Moscow Kremlin is included in the UNESCO World Heritage List.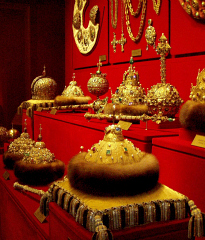 The Armoury - collection of Tsar's treasures
The Armoury is one of the oldest museums of Moscow, established in 1808. It is located on the territory of the Moscow Kremlin. The fist mentioning of Armoury recorded in 1508 and it started to function as the storehouse for the Kremlin weaponry, it was also in charge of producing, purchasing and storing weapons, jewellery and various household articles of the tsars. The collection of the Armoury is overwhelming, some of the highlights include the Monomakh's Cap, Imperial Crown of Russia and Feberge eggs.
St. Petersburg
Saint Petersburg today is one of the most important cultural, scientific, and industrial cities in Russia, housing several hundred museums and exhibition halls. Great Russian and foreign artists, poets, writers and composers have admired the beauty of Saint Petersburg and commemorated it in their works. Like Venice, St. Petersburg is spread across a lot of big and small islands. A year-round destination for tourists from all over the world, this spectacular city boasts magnificent bridges, numerous rivers and canals, and majestic palaces and cathedrals.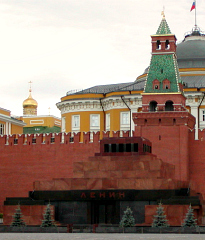 Lenin's Mausoleum and Kremlin Wall Necropolis
Lenins's Mausoleum also known as Lenin's Tomb serves as the current resting place of the Soviet leader Vladimir Lenin. It was designed by Alexei Shchusev in 1924, during a period in which the strength of the Russian Avant-Garde had not yet been decimated by Stalin's enforced return to heroic realism and conservative classicism. Faced with red granite (for Communism) and black labradorite (for mourning), the Mausoleum is essentially a pyramid composed of cubes. The Kremlin Wall Necropolis is centred on both sides of the mausoleum. It is where prominent Soviet politicians, military leaders, cosmonauts and scientists are buried. Be prepared to some queuing to be allowed entry especially during high tourist seasons.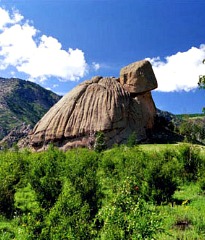 Terelj National Park - area of magnificent alpine scenery
Gorkhi Terelj National Park is one of the Mongolia's finest and best-known national parks. It is located just an hour's drive away from Ulan Bator. The park is named after 'Terelj', a famous local plant that flowers at the end of spring. This is an area of magnificent alpine scenery that is especially impressive due to its strangely shaped rock formations: Turtle Rock and the Praying Lama Rock. Terelj offers great opportunities for relaxation, slow walking, as well as horse-riding. There is also a Buddhist monastery that is open to public.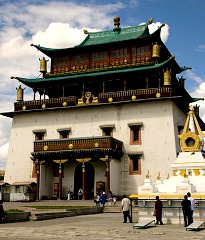 Gandan Monastery
The Gandan Monastery (full name Gandantegchinlen Khiid) is a Tibetan-style monastery in Ulan Bator. It was established in 1835 and is the largest and most significant in Mongolia. Its name translates to the "Great Place of Complete Joy". It was the only place where Buddhist services continued during the communist years and fortunately it escaped the mass architectural destruction of 1937. The monastery was restored and revitalised since 1990.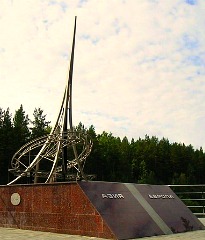 Europe – Asia Border – step into two parts of the world
A monument that symbolises the geographical border between the continents of Europe and Asia is located near Yekaterinburg. It was constructed in 2004 and represents two letters A and E. According to an old tradition, tourists drink a glass of champagne on this place and take it home. The place is also very popular among the newly weds. Experience the way the Russians celebrate their weddings.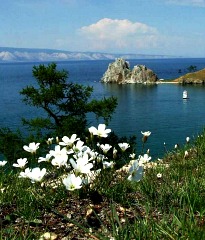 Lake Baikal - outstanding beauty
Lake Baikal knows lots of statistics – being the deepest, largest, freshest, cleanest, etc. At the same time Baikal is one of those rare spots on the earth where nature has still remained genuine and untouched. The magnificent landscapes – the lake is surrounded by high mountain chains - and the unique clarity of the water made lake Baikal famous as one of the biggest nature wonders of the world. It was declared a UNESCO World Heritage Site.