Best of Trans-Mongolian: Moscow - Yekaterinburg - Irkutsk - Baikal - Mongolia - Beijing (TS-11)
A once-in-a-lifetime tour, on our Best of Trans-Mongolian you will visit the key cities of the longest railway in the world, travelling from west to east through Russia, Mongolia and China. Each has distinct cultures and landscapes. Our expert English-speaking guides will make sure you get the most out of each stop.

Our driver will meet you in the arrival sector and transfer to the hotel.

We will go on a short walk around central Moscow visiting the Red Square, Lenin's Tomb and St. Basil`s Cathedral.

We will discover the interior of the Kremlin and the Armoury. We will also explore the Moscow metro - one of the masterpieces of the Soviet era. In the evening we will board the train to Yekaterinburg.

Our driver will meet you at the carriage. Transfer to the hotel.

We will visit the majestic Memorial Cathedral built on the place of execution of the last Russian tsar Nikolay II, and the obelisk "Border of Europe and Asia". In the evening we will board our train to Siberia.

Days 6-7. Onboard through Siberia

Days 6-7 are spent onboard the train.

Day 8. Irkutsk - Listvyanka

Our guide will meet you with a sign board upon your arrival in Irkutsk and transfer to Listvyanka village where you will enjoy your free time.

Day 9. Listvyanka - Taltsy - Irkutsk

We will visit the open air Wooden Architecture Museum in Taltsy - a large collection of original wooden houses. After a guided city tour around Irkutsk we start our trip to Mongolia by train.

Day 11. Ulan Bator - Terelj

We drive to the stunning Terelj National Park stopping at the Chinggis Khaan monument. We will explore Turtle Rock and enjoy hiking to Aryabal monastery. We will visit a real Nomad family. Overnight in a ger.

Day 12. Terelj - Ulan Bator

We drive back to Ulan Bator and enjoy a full day city tour including visit to the National History Museum.

Transfer to the railway station and board the train to China.

Our guide will meet you at the station. We will visit an old part of Beijing – hutong neighbourhood and enjoy a guided ride by rickshaw.

We will tour Tiananmen Square, Forbidden City and Summer Palace.

We will visit the Badaling Great Wall and the Olympic park constructed in Beijing for 2008 summer Olympics.

Transfer to the airport for your flight back home.

Click here to view detailed day-by-day itinerary of this tour

Tour Inclusions

Not included

Quick Facts
Season

: Four Seasons

Days

: 17

Group Size

: 2-12

Tour Grade

:
Included in the Tour Price
International flights
Our advertised package price is based on economy flights from / to London. If you depart from a regional airport in the UK or another country, there might be additional surcharges for international airfares. Upon booking a tour you will be offered various flight options. Please note, the package price depends on the availability of flight tickets and will be reconfirmed by your travel consultant. The airfare is not guaranteed unless ticketed. We advise to book sooner than later as the airfare may go up closer to your departure date, especially during high seasons.
Accommodation
All accommodation at your destination is included in the holiday price. Hotel category - according to the package type selected.
Guided tours & cultural programme
All tours with entrance fees listed in the itinerary are included in the holiday price. There will be an English-speaking guide on all tours. Please note, we can arrange guides speaking other languages upon request. Please let us know your preferences.
Meals on Transsib
Breakfasts in the hotels in Russia, full board in Mongolia and China are included in the holiday price. No meals are included on the train. While on the train you can either use a restaurant carriage or buy food from local vendors or shops. There is always hot boiled water available on the trains which makes possible to prepare instant food.
Domestic transport at your destination
All domestic transportation at your destination is included as per the itinerary: air conditioned vehicles, 2nd class train, economy flights if applicable. Any 1st class upgrade for train, higher class for air travel are subject to surcharges. For sightseeing we use a comfortable coach, car or minibus; or can also go on foot.
Airport & railway transfers
All airport and railway transfers as per itinerary are included in the tour price. We will also provide airport transfers if you arrange your own arrival / departure flights regardless of the time of the flight, you will need to let us know your flight details. We operate all transfers 24 hours a day.
Visa fees
Standard visa processing for UK residents is included in the tour price. Upon your booking we email detailed guidance notes how to complete the visa forms. All application packs are checked by our visa department before submission to the relevant consulates. If you are based overseas we will email all required paperwork for you to apply for the visas in the local consulate. Please read more about required visas in the tour description or our country guides on this websites.
Not included
Personal travel insurance
Personal travel insurance is not included in the holiday price. It is advisable to take out your travel insurance at the time of booking your trip as cover will commence for pre-departure cancellation from the policy issue date. You can arrange your personal travel insurance on
our website
.
Optional excursions and services
Optional excursions and services not listed in the itinerary. Please let us know if you wish to book any additional excursions.
Day 1 - Saturday - Moscow
Arrival in Moscow. Our driver will meet you in the arrival sector with a sign board. Transfer to the hotel.
Today we explore the highlights of Moscow, one of the world's greatest cities. Key sights include Lubyanka Square (the world-famous KGB centre), Lenin's Tomb standing at the foot of the Kremlin wall, the Red Square with St. Basil's cathedral (our guided tour here will explain why this is a symbol of Russia), Teatralnaya Square next to the majestic Bolshoi Theatre. Then we will continue our walk through the small central streets and lanes taking in Stalinist and modern architecture. (B)
A deeper look at Moscow with visits to the Kremlin Grounds and orthodox cathedrals, including the Cathedral Square with its links to Ivan the Terrible, Boris Godunov and the early Romanovs. A visit to the Armoury Museum and its Tsar Treasures to look at the fabulous Faberge eggs and artworks by Russian, European and Oriental masters. Lastly, a tour of the Moscow Underground with its marble, mosaics and stained-glass panels.

In the late afternoon our driver will bring you to the railway station where you will board the fast, comfortable train to Yekaterinburg. Arrival in Yekaterinburg late in the evening the next day. (B)
Day 4 - Tuesday - Yekaterinburg
Our driver will meet you at the carriage with a board showing your names. Transfer to the hotel.
Day 5 - Wednesday - Yekaterinburg
Today, in the fourth largest city in Russia, we will visit the Memorial Cathedral on the Blood in the name of all Saints, built where the last Russian tsar Nikolay II and his family, were slain. Then we will travel on to "Ganina Pit", a unique orthodox monastery. We will also visit the obelisk which marks the "Border of Europe and Asia". It's traditional here to drink a glass of champagne at the spot.

We board our train late in the evening. Arrival in Irkutsk early in the morning three days later. (B)
Day 8 - Saturday - Irkutsk - Listvyanka
You'll be met by our guide who will meet you with a signboard on your arrival in Irkutsk. Transfer to Listvyanka village (appr. 70 km). A relaxing free day, taking in Listvyanka village, enjoy the lake, St. Nicolas Russian Orthodox Church and the Baikal Lake Museum where you can learn all about the deepest freshwater lake in the world. (B)
Day 9 - Sunday - Listvyanka - Irkutsk
An exciting stop today, en-route to Irkutsk. The open air Wooden Architecture Museum in Taltsy has a large collection of original wooden houses, giving you a unique insight into life in local villages and the lifestyle of 16th – 19th century Russia. Also today, a guided city tour around Irkutsk, it's easy to see why it is known as the Paris of Siberia.

Late in the evening we leave the warm hospitality of the Siberian Russia to begin our trip to Mongolia by comfortable train. (B)
Day 11 - Tuesday - Ulan Bator - Terelj
Our guide will meet you at the railway station. Two Mongolian highlights today – the Chinggis Khaan monument, located 33 miles east of Ulan Bator. It is the biggest equestrian statue in the world and is a warm-up to the fantastic Terelj National Park which we will visit next, home of fierce horsemen, it also has unique granite rock formations, and clean alpine scenery. We will also explore Turtle Rock, have a picnic, hike to the Aryabal monastery and visit a real Nomad family. (L, D)
Day 12 - Wednesday - Terelj - Ulan Bator
Our driver will meet you at your accommodation. Transfer to Ulan Bator for your city tour. Based on the banks of the river Tuur, the city is home to Gandan Hiid Monastery, the country's largest remaining monastery and the Museum of Natural History, both of which we will visit. At the National Museum of Mongolian History we will have a special tour to learn about Mongolian cultural heritage. (B, L, D)
Day 13 - Thursday - Ulan Bator
Our driver will meet you with a signboard at the lobby of the hotel. Travelling by 'train K24' is the best way to travel from Mongolia into China and it is popular with other tourists. There are first class (2 berth compartments with one lower and one upper berth) and second class (4 berth compartments with two lower and two upper berths) carriages on this train. First class has an armchair, a small table and a toilet with a shower shared between two neighbouring compartments. Second class compartments do not have private facilities. Hot boiled water is available in thermos kettles. The train has a dining car and bar. (B)
Day 14 - Friday - Beijing
Arrival to Beijing. Our driver will meet you with a sign board at the station. Transfer to the hotel. An exciting day of Beijing activities awaits, we will start with a tour of an old Hutong neighbourhood by rickshaw, before moving on to Shichahai Lake, also by rickshaw, to visit both the famous Shichahai Lake and the Drum Tower right in the centre of old Beijing. In the evening you are free to enjoy the historical old part of Beijing or to return to the hotel with your guide. (D)
Day 15 - Saturday - Beijing
Today is about Beijing's best sights. Starting with a guided tour of Tiananmen Square – covering 440 thousand square metres – the tour moves on to a guided tour of the Forbidden City and Imperial Palace - the largest collection of preserved ancient wooden structures in the world. The Forbidden City is located to the north of Tiananmen Square. Then, it's time for the Summer Palace, which highlights the art of Chinese landscape garden design. (B, L, D)
Day 16 - Sunday - Beijing
We start with a guided tour of the Badaling section of the mighty Great Wall of China, the country's enduring icon before moving onto a great example of modern China – the Olympic Green, constructed in Beijing for the 2008 summer Olympics. (B, L, D)
Day 17 - Monday - Beijing
Transfer to the airport. Our driver will meet you with a sign board at the hotel lobby. (B)
Want to travel on different dates?
Please see below for our group tour dates, if you would like to travel on a different day, please
let us know
and we will come back to you with an offer. There might be additional surcharges for a private tour but all depends on the number of people in your party and your travel preferences.
Address: Park Hotel, Lhagvasuren street-32, 4th Khoroo, Bayanzurkh, Ulan Bator, Mongolia
Telephone: +976 7015 9900
DESCRIPTION
Park hotel is a newly opened 4* hotel in Ulan Bator, located in the south – eastern part of the Mongolian capital, about 8 kilometres from the central train station and 19 kilometres from the international airport.
Park hotel has 52 rooms, including comfortable and spacious standard twin, king, superior rooms and deluxe junior suites. All rooms are equipped with individually controlled air-conditioning, 32' LCD television, high speed internet access, mini bar, hairdryer. Deluxe junior suite has a bar and extra bathroom for guests.
Park hotel offers 24 hour room service, luggage storage, spa and fitness facilities, currency exchange and business centre services. There is also park restaurant, tequila lounge and a coffee shop. Visa and Master card are accepted.
PHOTOGALLERY
In the countryside your accommodation will be in a typical ger camp located in scenic areas. Every couple or a single traveller are allocated a private ger unless you are willing to share with other travellers. All ger camps are very similar in their set –up, facilities and services.

A "ger" or a yurt is a traditional, portable dwelling structure used by Mongolian nomads in the countryside, it is their link with the past, future and spiritual world. The central pillar – the smoke hole on the top of the tent is directly directed to cosmic axis and represents highway for spirits as according to Mongolian traditions, the universe is full of invisible spirits and humans have to develop good relationship with them, win them over and not to offend them.

Ger camps we use on our tours are slightly modified for Western travellers, however they do offer a genuinely authentic experience and most of them are situated in picturesque areas. The gers are made of a wooden frame that is covered with felt. Inside they are generally brightly painted and feature two or four single beds, a small table, stools, a lamp, electricity sockets and a stove for heating. You can ask a member of staff to start the fire in your ger at a specified time to make it warm, for example early in the morning before you get up.

Toilet and shower facilities are outside in a separate block, they are basic but are kept very clean. There is both hot and cold water available. Restaurants and bars are located in separate blocks or quite often in larger gers.

Staying in a typical ger really adds to your travelling experience.


Address: No.1, Ti Yu Guan Road, Chong Wen District, Beijing 100061
Telephone: +86 10 6719 0666
DESCRIPTION
The Tiantan (The Temple Of Heaven) Hotel is a modern 4 star hotel located in downtown Beijing. The hotel was fully renovated in 2005 and opened in June that year. Tiantan hotel is just minutes walk from the famous Temple of Heaven and the nearby park. The major tourist attractions like Forbidden City and Tiananmen Square are within less than a 15-minute drive, and it is only 40 minutes to Beijing Capital International Airport.
There are 300 guest rooms in the Temple of Heaven hotel, all equipped with telephone, central air-conditioning, safe-box, mini-bar, satellite TV system and bed-side control panel.
The hotel also features Chinese and Western restaurants, coffee shop, lobby bar, karaoke dancing club, billiard and recreational centre with gym, sauna and massage room. Business centre offers fax, photocopying and telex services.
FACILITIES
24 hour reception
Private parking
Business centre
Deposit boxes

Air-conditioning
Night Club
Fitness centre and sauna
Beauty-centre
PHOTOGALLERY
Trans-Mongolian East-West: Beijing - Mongolia - Baikal - Yekaterinburg - Moscow - St. Petes (TS-17)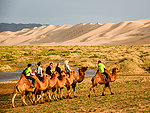 Start your epic Trans-Mongolian discovery from Asia and travel from mysterious China, through endless Mongolian steppes into Siberia and then European part of Russia all the way to St. Petersburg - one of the most beautiful cities in the world with its majestic palaces.

20 days
Highlights of Trans-Mongolian Railway Journey: Irkutsk - Baikal - Mongolia - Beijing (TS-14)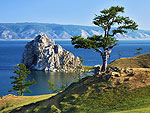 The journey of a lifetime, the Trans-Mongolian railway stretches across 3 countries, passing through Russia, Mongolia and China. We offer you a chance to complete this journey of a lifetime in 12 fantastic days starting from Siberia and finishing in Beijing.

12 days
Highlights of Mongolia Jeep Tour: Ulan-Bator - Gobi - Karakorum - Hustai (MN-03)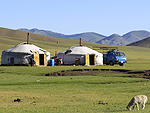 Mighty Mongolia is huge and this exciting 10-day tour explores the best of it in a short period of time. Bringing together the very best of modern and historical Mongolia travellers will experience a wealth of different activities and sights.

10 days, from £1,995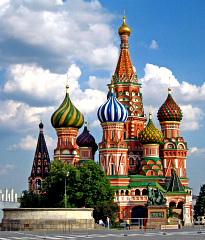 St. Basil's Cathedral - the symbol of Russia
The cathedral rises from Red Square in an irresistible profusion of colours and shapes. Its montage of domes, cupolas, arches, towers, and spires, each bearing a distinctive pattern and hue, have fascinated visitors since its construction in the 1550s. Although St. Basil's was built to commemorate Ivan the Terrible's capture of the Mongol stronghold of Kazan and is properly named the Cathedral of the Intercession, its popular name has long associated it with a ragged prophet who foretold the Moscow fire of 1547.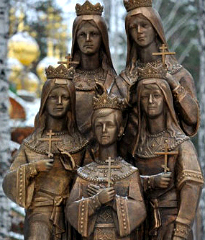 Ganina Yama - burial place of the last Russian tsar
Ganina Yama is a place where on the night of 17 July 1918, after the execution of the Romanovs family, the bodies of the Russian tsar and his family were secretly transported to and thrown into the pit. Nowadays there is a orthodox monastery built on the place of the initial burial place of imperial remains. Seven chapels were constructed at the site, one for each member of the royal family, and each chapel is dedicated to a particular saint.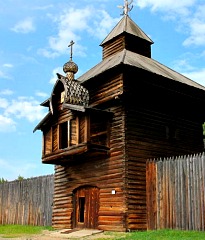 Taltsy Open Air Museum - masterpieces of woodwork
The open air Wooden Architecture Museum in Taltsy is located in a picturesque forest on the bank of Angara river, 23 km (14 miles) from Lake Baikal. It represents settlements of the local Baikal people and gives an overview of the traditional life style in Siberia in the 17-19th centuries. It has a large collection of original wooden houses equipped with old-style furniture and domestic utensils, and "wooden tents" which were brought from several local villages. Unique chance of ethnographical discoveries.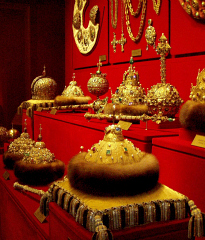 The Armoury - collection of Tsar's treasures
The Armoury is one of the oldest museums of Moscow, established in 1808. It is located on the territory of the Moscow Kremlin. The fist mentioning of Armoury recorded in 1508 and it started to function as the storehouse for the Kremlin weaponry, it was also in charge of producing, purchasing and storing weapons, jewellery and various household articles of the tsars. The collection of the Armoury is overwhelming, some of the highlights include the Monomakh's Cap, Imperial Crown of Russia and Feberge eggs.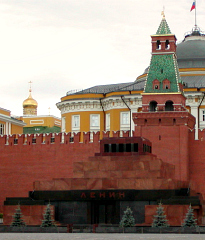 Lenin's Mausoleum and Kremlin Wall Necropolis
Lenins's Mausoleum also known as Lenin's Tomb serves as the current resting place of the Soviet leader Vladimir Lenin. It was designed by Alexei Shchusev in 1924, during a period in which the strength of the Russian Avant-Garde had not yet been decimated by Stalin's enforced return to heroic realism and conservative classicism. Faced with red granite (for Communism) and black labradorite (for mourning), the Mausoleum is essentially a pyramid composed of cubes. The Kremlin Wall Necropolis is centred on both sides of the mausoleum. It is where prominent Soviet politicians, military leaders, cosmonauts and scientists are buried. Be prepared to some queuing to be allowed entry especially during high tourist seasons.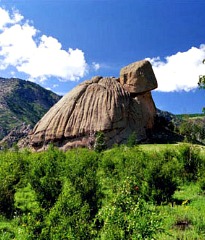 Terelj National Park - area of magnificent alpine scenery
Gorkhi Terelj National Park is one of the Mongolia's finest and best-known national parks. It is located just an hour's drive away from Ulan Bator. The park is named after 'Terelj', a famous local plant that flowers at the end of spring. This is an area of magnificent alpine scenery that is especially impressive due to its strangely shaped rock formations: Turtle Rock and the Praying Lama Rock. Terelj offers great opportunities for relaxation, slow walking, as well as horse-riding. There is also a Buddhist monastery that is open to public.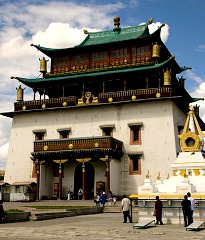 Gandan Monastery
The Gandan Monastery (full name Gandantegchinlen Khiid) is a Tibetan-style monastery in Ulan Bator. It was established in 1835 and is the largest and most significant in Mongolia. Its name translates to the "Great Place of Complete Joy". It was the only place where Buddhist services continued during the communist years and fortunately it escaped the mass architectural destruction of 1937. The monastery was restored and revitalised since 1990.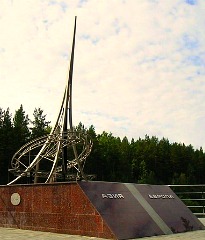 Europe – Asia Border – step into two parts of the world
A monument that symbolises the geographical border between the continents of Europe and Asia is located near Yekaterinburg. It was constructed in 2004 and represents two letters A and E. According to an old tradition, tourists drink a glass of champagne on this place and take it home. The place is also very popular among the newly weds. Experience the way the Russians celebrate their weddings.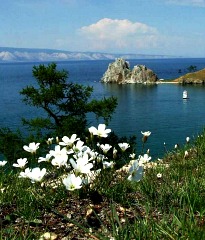 Lake Baikal - outstanding beauty
Lake Baikal knows lots of statistics – being the deepest, largest, freshest, cleanest, etc. At the same time Baikal is one of those rare spots on the earth where nature has still remained genuine and untouched. The magnificent landscapes – the lake is surrounded by high mountain chains - and the unique clarity of the water made lake Baikal famous as one of the biggest nature wonders of the world. It was declared a UNESCO World Heritage Site.