Tours along the Silk Road
Let us introduce you to one of the most mythical and astonishing places on earth, Central Asia: lands of extremes and contrasts that for centuries remained a blank on the map. The Central Asian "stans" are back in the travel spotlight, and with their enormous swathe of territory and cultural heritage have much to offer.
Below you will find our group tours to Kyrgyzstan and Uzbekistan. You can use the filters to facilitate your search. If you cannot find any suitable itinerary, please
let us know
and we will tailor-make a trip along the Silk Road for you based on your preferences. Please also note, although all our groups are small, we can still arrange any of the tours listed below on a private basis.
Inspiration
Classic
Nature
Culture & History
Tour duration
Tour price
Landmarks
Issyk-Kul Lake
Son Kul Lake
Tash Rabat Caravanserai
Karakol City
Jety-Oguz gorge
Bukhara – holy city in Central Asia
Khiva - open air museum
Samarkand - the Gem of the East
A Classic Silk Road Trip to Uzbekistan - Visit Tashkent, Samarkand, Bukhara, Khiva (SR-04)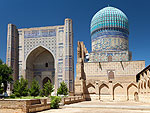 Our classic Silk Road trip to Uzbekistan – to the heart of the Central Asia - will take you through the complex passages of history, exploring the very essence of the Silk Road's cultural and spiritual legacy, unearthing its hidden treasures from beneath the layers of centuries.

7 days, from £945
Best of Kyrgyzstan: Discover Finest Lakes, Steppe Land & Historic Towns – 8 days (SR-05)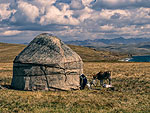 Kyrgyzstan is the heart of Central Asia with unbeatable mountain landscapes, shepherd cultures, nomads and rolling summer pastures. Of all the countries in Central Asia Kyrgyzstan with its visa-free travel, network of homestays and souvenirs for sale, is the easiest for westerners to travel in.

8 days, from £895