Best of Mongolia Jeep Tour: Ulan Bator, National Parks, Gobi Desert and Naadam Festival (MN-02)
This is a magical and in-depth 15-day tour of Mongolia which will introduce travellers to the very best that this beguiling country has to offer. Combining modern and historical traditions we will explore the country's customs, folklore, history and nature. Over the course of two weeks, you will have a cultural immersion visiting the unusual capital of Ulan Bator and Erdene-Zuu which is home to one of the largest monasteries in Mongolia as well as the country's very first Buddhist monastery and the fascinating remnants of Karakorum – the former stronghold of Genghis Khan's Mongolian Empire. There will be a large element of nature and wildlife on this tour too. We will explore the fascinating national parks of Terelj and Hustain Nuruu, the rolling and magical sand dunes of Khongor and the South Gobi.

We will also experience a truly remarkable opening ceremony of the Naadam and enjoy festival unique sporting events, Naadam gala dinner and a folk concert in the evening. This is a tour unlike any other!

Book now

from £2,795 per person,

15 days

Upon arrival in Ulan Bator, you will be met by your guide and a driver. Transfer to the hotel.

Day 2. Baga Gazriin Chuluu (Middle Gobi)

Trip to Baga Gazriin Chuluu, a multi-hued and striking natural rock formation. Overnight in a traditional ger camp.

Today we will head to Tsagaan Suvarga, a fascinating white lime stone cliff. Dinner and overnight stay in a ger camp.

A thrilling drive to Yoliin Am Park for hiking and a chance to photograph the breathtaking landscape. Overnight stay in a ger camp.

Day 5. Khongor Sand Dunes

We drive to the Khongor Sand Dunes known as the Singing Dunes, in the evening observe a stunning sunset. Overnight stay in a ger camp.

We will focus on the amazing Flaming Cliffs and the saxaul trees of the Gobi, we'll have a chance to ride on a camel too. Overnight stay in a ger.

Our mission today is to visit the ruins of once great Ongi Monastery. Spend the night in a ger camp.

Day 8. Karakorum - Erdene-Zuu Monastery

Drive out to Karakorum - the magnificent capital of the Great Mongol Empire, visit the Erdene-Zuu Monastery. Overnight stay in a ger camp.

Day 9. Tsenkher Hot Springs

Today is less about exploring and more about relaxing in beautiful Mongolian nature. Overnight stay in a ger camp.

Day 10. Tsenkher Hot Spring

Enjoy this day at your leisure as we take a break from driving. Overnight stay in a ger camp.

Today we drive to Lake Ugii in Arkhangai province - one of the best places for bird watching. Spend the night in a ger camp.

Breakfast at the camp. Drive to Ulan Bator and transfer to the hotel.

Today we will attend the opening ceremony of the Naadam Festival and have a gala dinner. Overnight stay in a hotel.

Day 14. Hustain Nuruu National Park – Ulan Bator

We rise early today to drive to Hui Doloon Hudag for the horse-racing event of the Naadam. Drive back to the hotel in Ulan Bator.

Transfer to the airport for your flight back home.

Click here to view detailed day-by-day itinerary of this tour

Tour Inclusions

Not included

Quick Facts
Season

: Summer

Days

: 15

Group Size

: 2-10

Tour Grade

:
Included in the Tour Price
International flights
Our advertised package price is based on economy flights from / to London. If you depart from a regional airport in the UK or another country, there might be additional surcharges for international airfares. Upon booking a tour you will be offered various flight options. Please note, the package price depends on the availability of flight tickets and will be reconfirmed by your travel consultant. The airfare is not guaranteed unless ticketed. We advise to book sooner than later as the airfare may go up closer to your departure date, especially during high seasons.
Accommodation
All accommodation at your destination is included in the holiday price. Hotel category - according to the package type selected.
Guided tours & cultural programme
All tours with entrance fees listed in the itinerary are included in the holiday price. There will be an English-speaking guide on all tours. Please note, we can arrange guides speaking other languages upon request. Please let us know your preferences.
Full-board meals
Full board (breakfast, lunch and dinner) each day. Service begins with dinner on the day of arrival and ends with breakfast on the day of departure. Depending on the itinerary you may be served a packed lunch on your tour. Please advise us if you have any special dietary requirements.
Ground transportation
All domestic transportation at your destination is included as per the itinerary. In the countryside we use chauffeur driven 4WD jeeps and in the city areas – minivans or coaches. All vehicles have air-conditioning system.
Airport & railway transfers
All airport and railway transfers as per itinerary are included in the tour price. We will also provide airport transfers if you arrange your own arrival / departure flights regardless of the time of the flight, you will need to let us know your flight details. We operate all transfers 24 hours a day.
Visa fees
Standard visa processing for UK residents is included in the tour price. Upon your booking we email detailed guidance notes how to complete the visa forms. All application packs are checked by our visa department before submission to the relevant consulates. If you are based overseas we will email all required paperwork for you to apply for the visas in the local consulate. Please read more about required visas in the tour description or our country guides on this websites.
Not included
Personal travel insurance
Personal travel insurance is not included in the holiday price. It is advisable to take out your travel insurance at the time of booking your trip as cover will commence for pre-departure cancellation from the policy issue date. You can arrange your personal travel insurance on
our website
.
Optional excursions and services
Optional excursions and services not listed in the itinerary. Please let us know if you wish to book any additional excursions.
Upon arrival in Ulan Bator, you will be met by your guide and a driver who will transfer you to your hotel in the capital. (D).
Day 2. Baga Gazriin Chuluu (Middle Gobi)
Early morning will see your adventure begin with a trip to Baga Gazriin Chuluu, a multi-hued and striking natural rock formation. Nearby, we will also visit the ruins of an ancient temple and explore the area as well as enjoying a picnic lunch out in the wilds. Dinner and overnight stay in a traditional and romantic ger camp. Driving distance – 220 km (135 miles). (B/L/D).
After breakfast today we will head to Tsagaan Suvarga, a fascinating white lime stone cliff which resembles a traditional Buddhist Stupa. Given that we are far from civilisation, we will enjoy an al-fresco picnic lunch. Dinner and overnight stay in a ger camp. Driving distance – 280 km (175 miles). (B/L/D).
Today it is a long – but thrilling – drive to Yoliin Am National Park for hiking and an opportunity to photograph the stunning surrounding landscape. Picnic lunch. Spend the afternoon hiking or relaxing in the natural setting. Return to the camp for overnight stay. Driving distance – 280 km (175 miles). (B/L/D).
Day 5. Khongor Sand Dunes
After breakfast today we will drive to the wild and beautiful Khongor Sand Dunes known as the Singing Dunes (the vibrations of shifting sand make a sound like singing). We will enjoy a picnic lunch, outside, nomadic style. We will climb up to the sand dunes and be rewarded with a huge, panoramic view. In the evening we will observe a stunning sunset, please prepare your camera for this spectacle. Dinner and overnight stay in a ger camp. Driving distance – 200 km (125 miles). (B/L/D).
Today, we will focus on the amazing Flaming Cliffs (Bayanzag) and the saxaul trees of the Gobi. We will explore the site of the first paleontological discoveries made in Mongolia by Roy Chapman Andrews. We will also learn all about those wonderful hump-backed creatures, the camel, with a nomadic camel breeding family. We will also experience the hospitality of the Mongolian nomads. There will be the chance to ride on a camel too to complete the experience. Lunch, dinner, and overnight stay in a ger camp. Driving distance – 150 km (94 miles). (B/L/D).
Today, we travel north. Our mission is to visit the ruins of once great Ongi Monastery and to visit a local restored temple and as well as to enjoy a gentle walk in the surrounding area. Have dinner and spend the night in a ger camp. Driving distance – 150 km (94 miles). (B/L/D).
Day 8. Karakorum - Erdene-Zuu Monastery
After breakfast we will drive out to Karakorum, which in the 13th century was the magnificent capital of the Great Mongol Empire. Here, we will have the chance to visit the Erdene-Zuu Monastery, which was the first and largest monastery in Mongolia. We will tour the monastery and visit several temples in which hang several stunning examples of Buddhist Thangka paintings dating back to the 16thcentury. Visit the Karakorum Museum. Dinner and overnight stay in a ger camp. Driving distance – 300 km (187 miles). (B/L/D).
Day 9. Tsenkher Hot Springs
Today is less about exploring and more about relaxing in beautiful Mongolian nature. We will drive to the Tsenkher hot spring and spend the day relaxing in the natural spa. For those who fancy it, there is the chance to walk in the surrounding forest too. Bring your swimwear. Optional massage and beauty services are available. Enjoy the spa again after dinner for a full chill-out experience. Lunch, dinner, and overnight stay in a ger camp. Driving distance – 150 km (94 miles). (B/L/D).
Day 10. Tsenkher Hot Spring
Enjoy this day at your leisure as we take a break from driving. You can spa, walk, sleep, read, upload pictures and generally reminisce about your adventure so far. Lunch, dinner, and overnight stay in a ger camp. (B/L/D).
Today we drive to Lake Ugii in Arkhangai province. This is one of the best places for bird watching in Mongolia. Spend the night in a ger camp. Driving distance – 240 km (150 miles). (B/L/D).
Breakfast at the camp. Drive to Ulan Bator and transfer to the hotel. Driving distance - 350 km (220 miles). (B/L/D).
Today will prove to be a truly remarkable experience as today we will attend the opening ceremony of the Naadam Festival. Not only that, we will enjoy a Naadam Gala Dinner and a Folk Concert in the evening. The highlight of the Mongolian festival calendar, the Naadam Festival dates back several centuries and takes place each year on July 11-13. Originally a assessment of a nomad's abilities, it requires power, endurance and precise marksmanship as well as a host of horse skills. Understandably given the role of the horse in Mongolia, much significance is placed on the horse races. Herdsmen arrive from hundreds of miles to join in – as well as those from cities and towns. Amazingly, the races are staged on the vast steppe itself which covers almost 20 miles. This is a hugely popular tour and we highly recommend booking early. Overnight stay in a hotel. (B/L/D).
Day 14. Hustain Nuruu National Park – Ulan Bator
We rise early today to drive to Hui Doloon Hudag for the horse-racing event of the Naadam Festival. This is our chance to watch these magnificent horses race and take some incredible photographs. The atmosphere is electric. Keeping with the equine theme, afterwards we will drive deep into the National Park in search for the Przewalski horses (takhi), the grandfather of all horses in the world. If you have binoculars, bring them. Here we will also view a short documentary and visit the museum. Drive back to the hotel in Ulan Bator. Driving distance – 130 km (80 miles) one way. (B/L/D).
Breakfast at the hotel. Our driver will meet you at the hotel lobby. Transfer to the airport for your flight back home. (B).
Want to travel on different dates?
Please see below for our group tour dates, if you would like to travel on a different day, please
let us know
and we will come back to you with an offer. There might be additional surcharges for a private tour but all depends on the number of people in your party and your travel preferences.
Address: Park Hotel, Lhagvasuren street-32, 4th Khoroo, Bayanzurkh, Ulan Bator, Mongolia
Telephone: +976 7015 9900
DESCRIPTION
Park hotel is a newly opened 4* hotel in Ulan Bator, located in the south – eastern part of the Mongolian capital, about 8 kilometres from the central train station and 19 kilometres from the international airport.
Park hotel has 52 rooms, including comfortable and spacious standard twin, king, superior rooms and deluxe junior suites. All rooms are equipped with individually controlled air-conditioning, 32' LCD television, high speed internet access, mini bar, hairdryer. Deluxe junior suite has a bar and extra bathroom for guests.
Park hotel offers 24 hour room service, luggage storage, spa and fitness facilities, currency exchange and business centre services. There is also park restaurant, tequila lounge and a coffee shop. Visa and Master card are accepted.
PHOTOGALLERY
In the countryside your accommodation will be in a typical ger camp located in scenic areas. Every couple or a single traveller are allocated a private ger unless you are willing to share with other travellers. All ger camps are very similar in their set –up, facilities and services.

A "ger" or a yurt is a traditional, portable dwelling structure used by Mongolian nomads in the countryside, it is their link with the past, future and spiritual world. The central pillar – the smoke hole on the top of the tent is directly directed to cosmic axis and represents highway for spirits as according to Mongolian traditions, the universe is full of invisible spirits and humans have to develop good relationship with them, win them over and not to offend them.

Ger camps we use on our tours are slightly modified for Western travellers, however they do offer a genuinely authentic experience and most of them are situated in picturesque areas. The gers are made of a wooden frame that is covered with felt. Inside they are generally brightly painted and feature two or four single beds, a small table, stools, a lamp, electricity sockets and a stove for heating. You can ask a member of staff to start the fire in your ger at a specified time to make it warm, for example early in the morning before you get up.

Toilet and shower facilities are outside in a separate block, they are basic but are kept very clean. There is both hot and cold water available. Restaurants and bars are located in separate blocks or quite often in larger gers.

Staying in a typical ger really adds to your travelling experience.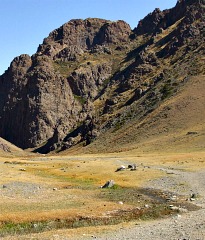 Yol Valley - the Valley of the Eagles
The valley is named after the Lammergeier - bearded vulture - which is called Yol in Mongolian. Its name is often translated to Valley of the Vultures or Valley of the Eagles, or simply Yol Valley. It is located within Gobi Gurvansaikhan National Park and spans an area of 70 km. It is a deep and narrow gorge, following the canyon through to the end, leads to a beautiful wide valley which is very rich in rare plants. There is a small natural museum at the entrance of the national park.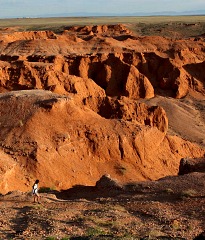 Flaming Cliffs - dinosaur fossils
The Flaming Cliffs, also known as Bayanzag (saxaul tree forest of the Gobi), is a region of the Gobi desert where important dinosaur fossil finds have been made. The name was given by the American paleontologist Roy Chapman Andrews, who visited the site in 1920. The area is most famous for the first discovery of dinosaur eggs as well as complete dinosaur skeletons. The rocks exudes a glowing orange colour, hence the nickname. The area is a mixture of rocks, red sand, saxaul shrubs offering awesome views under sunlight as well as at dawn.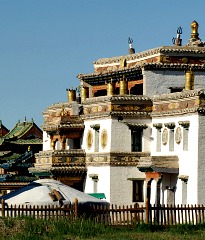 Erdene Zuu - the first Buddhist monastery
Erdene Zuu was the first and largest monastery in Mongolia. It is located adjacent to the ancient city of Karakorum - once the capital of the Mongol empire. The remains of the city of Karakorum were destroyed by the Manchurians who had helped to build the monastery in the 16th century. Planners had attempted to create a surrounding wall that resembled a Tibetan Buddhist rosary featuring 108 stupas. Today Erdene Zuu remains an active Buddhist monastery as well as a museum that is open to tourists. Erden Zuu is part of the Orkhon Valley Cultural Landscape UNESCO World Heritage Site.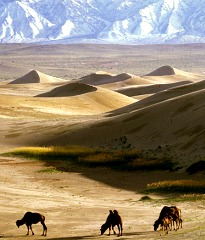 Khongor Els - singing dunes
Singing Dunes also known as Khongor Els are the largest sand dunes in Mongolia reaching a height of up to 800 meter and stretching over 180 km (112 miles). The dunes are part of Three Beauties of Gobi National Park. The sound produced from the masses of sand moving in the wind can be heard from far away, hence the name. Depending on the day time and sun light the dunes change their colour, from yellow to silver. The Khongoryn River flows along the sand dunes offering valuable drinking water for the local wildlife as well as giving birth to oases. Breathtaking views can be enjoyed from the top of the dunes.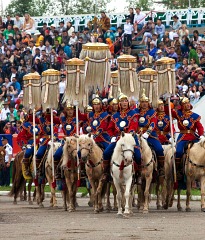 Naadam Festival – cultural heritage of humanity
Naadam is a traditional festival in Mongolia taking place every year between 11-13 July. In 2010, it was inscribed on the UNESO Representative List of the Intangible Cultural Heritage of Humanity. Naadam is also known as "the three games of men" although recently women stated participating in some sporting activities. The three games are Mongolian wrestling, horse racing and archery. Naadam begins with an introductory colourful ceremony featuring dancers, athletes, horse riders, musicians as well as impressive parades of mounted cavalry, athletes and monks. This is an excellent time of year to be in Mongolia.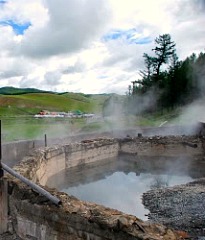 Tsenkher - natural hot springs
Tsenkher is a natural hot spring that flows from the ground, through the seasons, at a temperature of 85 Celsius. The spring is located in central Mongolia in a mountainous region, at 1,860 meters above the sea level. There are several tourist camps offering hot indoor and outdoor baths, massage, as well as night spa facilities. There are also plenty of walking options in the surrounding forest. A perfect opportunity for relaxation!