In Genghis Khan's Footsteps & Secret History of the Mongol Empire (MN-04)
The 13th century founder and Great Khan of the Mongol Empire is one of the most famous men in the history of the world. This tour looks at his legacy, modern Mongolia and the secret history of this fascinating and enormous country. Take a trip through time and explore the legend of this feared but legendary ruler whose reign still matters today.

Upon arrival our guide will transfer you to the hotel.

We drive to Khukh Nuur where Temujin was bestowed with his legendary title `Chinggis Khaan`. Overnight stay in a ger camp.

We will drive to Binder Soum and explore the famous Uglugchiin Kherem Wall that might be a burial place of many great historical Mongol figures. Overnight stay in a ger camp.

Drive to Chinggis Khaan's birthplace, Dadal Soum. In the afternoon we will visit a Buriad family and experience unique culture of this ethnic group. Overnight stay in a ger camp.

Explore the birthplace of Chinggis Khaan, Deluun Boldog and the sparkling Chinggisiin Gurvan Lake. A historian will take us on a unique journey through Chinggis Khan's life. Overnight stay in a ger camp.

Drive to the center of Khentii province, Undurkhaan. Overnight in a ger camp.

Drive to Khuduu Aral where the "Secret History of the Mongols" was written in 1240. Visti the ruins of the ancient city of Aurag. Overnight stay in a ger camp.

Today, we will drive to the XIII century park. It offers a unique insight into Mongol history. Overnight in a ger camp.

We drive back to Ulan Bator stopping along the way at the famous Chinggis Khaan Statue Complex. Stay overnight in a hotel.

After breakfast you will be transferred to the airport or railway station.

Click here to view detailed day-by-day itinerary of this tour

Tour Inclusions

Not included

Quick Facts
Season

: Summer

Days

: 10

Group Size

: 2-10

Tour Grade

:
Included in the Tour Price
International flights
Our advertised package price is based on economy flights from / to London. If you depart from a regional airport in the UK or another country, there might be additional surcharges for international airfares. Upon booking a tour you will be offered various flight options. Please note, the package price depends on the availability of flight tickets and will be reconfirmed by your travel consultant. The airfare is not guaranteed unless ticketed. We advise to book sooner than later as the airfare may go up closer to your departure date, especially during high seasons.
Accommodation
All accommodation at your destination is included in the holiday price. Hotel category - according to the package type selected.
Guided tours & cultural programme
All tours with entrance fees listed in the itinerary are included in the holiday price. There will be an English-speaking guide on all tours. Please note, we can arrange guides speaking other languages upon request. Please let us know your preferences.
Full-board meals
Full board (breakfast, lunch and dinner) each day. Service begins with dinner on the day of arrival and ends with breakfast on the day of departure. Depending on the itinerary you may be served a packed lunch on your tour. Please advise us if you have any special dietary requirements.
Ground transportation
All domestic transportation at your destination is included as per the itinerary. In the countryside we use chauffeur driven 4WD jeeps and in the city areas – minivans or coaches. All vehicles have air-conditioning system.
Airport & railway transfers
All airport and railway transfers as per itinerary are included in the tour price. We will also provide airport transfers if you arrange your own arrival / departure flights regardless of the time of the flight, you will need to let us know your flight details. We operate all transfers 24 hours a day.
Visa fees
Standard visa processing for UK residents is included in the tour price. Upon your booking we email detailed guidance notes how to complete the visa forms. All application packs are checked by our visa department before submission to the relevant consulates. If you are based overseas we will email all required paperwork for you to apply for the visas in the local consulate. Please read more about required visas in the tour description or our country guides on this websites.
Not included
Personal travel insurance
Personal travel insurance is not included in the holiday price. It is advisable to take out your travel insurance at the time of booking your trip as cover will commence for pre-departure cancellation from the policy issue date. You can arrange your personal travel insurance on
our website
.
Optional excursions and services
Optional excursions and services not listed in the itinerary. Please let us know if you wish to book any additional excursions.
Upon arrival in Ulan Bator you will be met by your guide and driver and transferred to your hotel for the night. Overnight stay in the hotel. (D).
After an early breakfast we will drive to Khukh Nuur, 215 km from Ulan Bator. The long drive will be scenic and will serve as a great introduction to the country. On arrival we will enjoy lunch and camp in the Khukh Nuur tourist camp which is located near Khukh Nuur. Khukh Nuur is known as the location where Temujin was bestowed with his legendary title `Chinggis Khaan`. After lunch, we will visit the lake and explore the Khar Zurkhen (Black Heart) Mountain. A historian will explain to us all about Chinggis Khaan's life, which is very specific to this area. Dinner and overnight stay in a ger camp. Driving distance – 215 km (135 miles). (B/L/D).
This morning we will drive to Binder Soum, 220 km from Lake Khukh Nuur. We will explore the famous Uglugchiin Kherem Wall which at 3km in length is made entirely of stones without the use of mortar. It is one of the world's little-known wonders. Today, it stands 3.1 meters tall at its highest point and there are approximately 60 tombs scattered near the wall. It is of particular note that Oglochiin Kherem may be a burial place of many great historical Mongol figures, such as Chinggis Khaan or Khubilai Khaan. Picnic lunch and overnight stay in a ger camp. Driving distance - 220 km (138 miles). (B/L/D).
In the morning we will drive to Chinggis Khaan's birthplace, Dadal Soum, 120km away from Binder Soum. The journey will follow the banks of Onon River that stretches all the way from Russia to Mongolia. It is a spectacular and photogenic drive. Eventually, we will arrive to our ger camp, which is close to Chinggisiin Gurvan Lake. In the afternoon we will visit a Buriad family and experience unique culture of this ethnic group. The group live along the easternmost section of the world's longest border between the Caspian Sea to the Sea of Japan. Dinner and overnight stay in a ger camp. Driving distance - 120 km (75 miles). (B/L/D).
Explore the birthplace of Chinggis Khaan, Deluun Boldog and the sparkling Chinggisiin Gurvan Lake. A historian will take us on a unique journey through Chinggis Khan's life. Afterwards, we will visit the Chinggis Khaan Monument. In the afternoon, we will enjoy horseback riding on the vast steppes. Dinner and overnight stay in a ger camp. (B/L/D)
Drive to the center of Khentii province, Undurkhaan, 260 km (160 miles) from Dadal. Dinner and overnight in a ger camp. (B/L/D).
Today, we drive to Khuduu Aral, 135 km from Undurkhaan. This is a vitally important place as Khuduu Aral was where the "Secret History of the Mongols" was written in 1240. Also in the area, archaeologists discovered the ruins of the ancient city of Aurag. After lunch, explore Chinggis Khaan's monument and the ruins of Aurag city. It is believed that Chinggis Khaan used to drink from the natural mineral springs near the ruins. Dinner and overnight stay in a ger camp. Driving distance - 135 km (85 miles). (B/L/D).
Today, we will drive to the XIII century park. This special complex covers an area of 15 x 15 km and has six camps and many tribes which are very unique. Everything is built in the XIII century style. It offers a unique insight into Mongol history. Overnight in a ger camp. Driving distance - 150 km (95 miles). (B/L/D).
Today we drive back to Ulan Bator covering around 96 km (60 miles) and stopping along the way at the famous Chinggis Khaan Statue Complex. Transfer to your hotel after arrival in Ulan Bator. Stay overnight in a hotel. (B/L/D).
After breakfast you will be transferred to the airport or railway station for international departure. (B).
Want to travel on different dates?
Please see below for our group tour dates, if you would like to travel on a different day, please
let us know
and we will come back to you with an offer. There might be additional surcharges for a private tour but all depends on the number of people in your party and your travel preferences.
Address: Park Hotel, Lhagvasuren street-32, 4th Khoroo, Bayanzurkh, Ulan Bator, Mongolia
Telephone: +976 7015 9900
DESCRIPTION
Park hotel is a newly opened 4* hotel in Ulan Bator, located in the south – eastern part of the Mongolian capital, about 8 kilometres from the central train station and 19 kilometres from the international airport.
Park hotel has 52 rooms, including comfortable and spacious standard twin, king, superior rooms and deluxe junior suites. All rooms are equipped with individually controlled air-conditioning, 32' LCD television, high speed internet access, mini bar, hairdryer. Deluxe junior suite has a bar and extra bathroom for guests.
Park hotel offers 24 hour room service, luggage storage, spa and fitness facilities, currency exchange and business centre services. There is also park restaurant, tequila lounge and a coffee shop. Visa and Master card are accepted.
PHOTOGALLERY
In the countryside your accommodation will be in a typical ger camp located in scenic areas. Every couple or a single traveller are allocated a private ger unless you are willing to share with other travellers. All ger camps are very similar in their set –up, facilities and services.

A "ger" or a yurt is a traditional, portable dwelling structure used by Mongolian nomads in the countryside, it is their link with the past, future and spiritual world. The central pillar – the smoke hole on the top of the tent is directly directed to cosmic axis and represents highway for spirits as according to Mongolian traditions, the universe is full of invisible spirits and humans have to develop good relationship with them, win them over and not to offend them.

Ger camps we use on our tours are slightly modified for Western travellers, however they do offer a genuinely authentic experience and most of them are situated in picturesque areas. The gers are made of a wooden frame that is covered with felt. Inside they are generally brightly painted and feature two or four single beds, a small table, stools, a lamp, electricity sockets and a stove for heating. You can ask a member of staff to start the fire in your ger at a specified time to make it warm, for example early in the morning before you get up.

Toilet and shower facilities are outside in a separate block, they are basic but are kept very clean. There is both hot and cold water available. Restaurants and bars are located in separate blocks or quite often in larger gers.

Staying in a typical ger really adds to your travelling experience.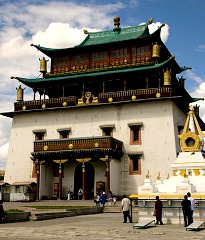 Gandan Monastery
The Gandan Monastery (full name Gandantegchinlen Khiid) is a Tibetan-style monastery in Ulan Bator. It was established in 1835 and is the largest and most significant in Mongolia. Its name translates to the "Great Place of Complete Joy". It was the only place where Buddhist services continued during the communist years and fortunately it escaped the mass architectural destruction of 1937. The monastery was restored and revitalised since 1990.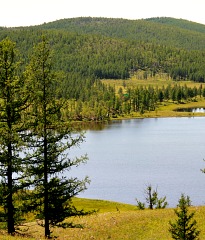 Lake Khukh Nuur - enthrone of Chinggis Khan
Lake Khukh Nuur is located about 215 kilometres (134 miles) to the east from Ulan Bator. Khukh Nuur consists of two lakes - linked underground - and the surrounding area is considered a place of outstanding natural beauty. The site is also famous for one of the most important events in the Mongolian history - in 1189 Temujin came to the throne of Mongolia and was given the title of "Chinggis Khan", meaning great. There is a memorial complex here dedicated to the 840 year birth anniversary of Genghis Khan.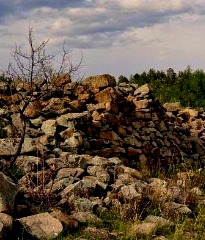 Uglugchiin Kherem - graves of historic Mongolian leaders
Almsgiver's Wall also known as Ancestor's Wall is located 45 km southwest of Batshireet soum. The wall is thought to have been built in the 13th century. It is three km long wall built of stones, without the use of mortar. At its highest point the wall is three meters tall. The site is considered a royal cemetery as in recent expeditions in 2003 and 2005, 60 ancient grave sites were discovered. Archaeologists believe that the wall may be a burial place of great Mongolian leaders, including Genghis Khan and Kubilai Khan. The area is scenic, surrounded by forested mountains and lush green valley.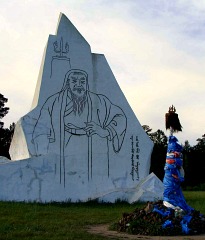 Dadal – Chinggis Khan's birthplace
Chinggis Khan was born here into the family of Yesugei Baatar in 1162 near Deluun Boldog Mountain. He managed to unite the Mongolian people who were divided at that time in more than 80 ethnic clans and in 1206 established the Great Mongol Empire. The site has a sacred reputation among Mongols, and it is located in a quiet rural area. There are two monuments dedicated to Chinggis Khaan: a statue of the khan erected for his 800th anniversary in 1962 and a large rock with an inscription in old Mongol script marking the birthplace of the Great Khaan. The surrounding area contains trails and lakes as well as monuments teaching about the glorious past of the Mongol empire.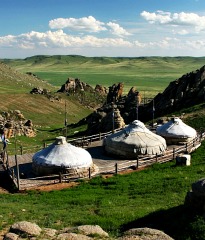 XIII Century National Park
The 13th century national park is located 100 kilometres (63 miles) to the east of Ulan Bator. The complex covers an area of 15 by 15 kilometres and consists of six unique camps and tribes. The idea of the park is to provide authentic environment and show the way of live in the 13th century. Visitors can enjoy traditional celebrations and customs and participate in sacred ceremonies, learn how to milk a cow, how to camel ride, etc. as well as watch traditional craftsmen at work. Here the guests can even dine with Khaans and Queens. A great opportunity for cultural discovery.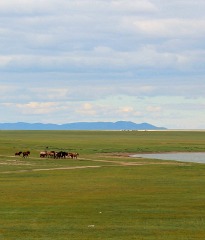 Secret History of the Mongols - story of Genghis Khan
The Secret History of the Mongols is the oldest surviving Mongolian-language literary work. It was written for the royal family after Genghis Khan's death in 1227 by an anonymous author at Khuduu Aral area. Khuduu Aral is a vast steppe about 30 kilometres long and 20 kilometres wide and it is dotted with several lakes and small hills. It is also believed that the palace of Genghis Khan stood in this area. It is here that you will also find ruins of the old city of Aurag, built by Genghis Khan and also known as winter palace of the khan.