Best of the Gobi by Air - Exploration Tour with Luxury Accommodation (MN-07)
The Gobi is big, really big, and one of the only ways to really appreciate its sheer scale is to fly high above it. This short adventure packs a lot into a few days. By the end travellers will understand this fabled part of the earth as well as appreciating Mongolian culture. A photographer's delight! We have also chosen the best available accommodation for your stay in Mongolia: luxury gers with traditional flavour in the country side and 5* hotels in the capital. This tour is most suitable for travellers who highly value comfort during their holidays and prefer less driving.

Meet your guide at the airport and head towards the HS Khaan Hotel Resort, located on a hill overlooking vast emerald green valley.

Day 2. Ulan Bator - Dalanzadgad - Khongor Els Sand Dunes

We take a domestic flight to Gobi. Upon arrival we will set off for the magical Khongoryn Els Sand Dunes at the foot of the beautiful Three beauties of the Gobi mountain range. Overnight at Gobi-Erdene camp.

We will drive on to the Yol Valley to embark on a full day excursion to the Yol Valley National Park. Overnight stay in a luxury ger camp.

Time to explore the world famous Flaming Cliffs (Bayanzag), home to dinosaur fossils and dinosaur eggs. Later, we will visit a local family and go on a short camel ride. Overnight in a comfortable ger camp.

Day 5. Dalanzadgad - Ulan Bator - Terelj

We take a domestic flight to Ulan Bator. Upon arrival we will make a brief transfer to Terelj National Park where we will enjoy the scenery of the park. Overnight stay at luxury five star Terelj Hotel.

We will set out on a full day city tour and visit the National Museum. Later, we will enjoy a farewell dinner in a special restaurant with panoramic view of the capital. Overnight at a five star hotel.

Transfer to the airport for your flight back home.

Click here to view detailed day-by-day itinerary of this tour

Tour Inclusions

Not included

Quick Facts
Season

: Summer

Days

: 7

Group Size

: 2-12

Tour Grade

:
Included in the Tour Price
International flights
Our advertised package price is based on economy flights from / to London. If you depart from a regional airport in the UK or another country, there might be additional surcharges for international airfares. Upon booking a tour you will be offered various flight options. Please note, the package price depends on the availability of flight tickets and will be reconfirmed by your travel consultant. The airfare is not guaranteed unless ticketed. We advise to book sooner than later as the airfare may go up closer to your departure date, especially during high seasons.
Accommodation
All accommodation at your destination is included in the holiday price. Hotel category - according to the package type selected.
Guided tours & cultural programme
All tours with entrance fees listed in the itinerary are included in the holiday price. There will be an English-speaking guide on all tours. Please note, we can arrange guides speaking other languages upon request. Please let us know your preferences.
Full-board meals
Full board (breakfast, lunch and dinner) each day. Service begins with dinner on the day of arrival and ends with breakfast on the day of departure. Depending on the itinerary you may be served a packed lunch on your tour. Please advise us if you have any special dietary requirements.
Domestic transport at your destination
All domestic transportation at your destination is included as per the itinerary: air conditioned vehicles, 2nd class train, economy flights if applicable. Any 1st class upgrade for train, higher class for air travel are subject to surcharges. For sightseeing we use a comfortable coach, car or minibus; or can also go on foot.
Airport & railway transfers
All airport and railway transfers as per itinerary are included in the tour price. We will also provide airport transfers if you arrange your own arrival / departure flights regardless of the time of the flight, you will need to let us know your flight details. We operate all transfers 24 hours a day.
Visa fees
Standard visa processing for UK residents is included in the tour price. Upon your booking we email detailed guidance notes how to complete the visa forms. All application packs are checked by our visa department before submission to the relevant consulates. If you are based overseas we will email all required paperwork for you to apply for the visas in the local consulate. Please read more about required visas in the tour description or our country guides on this websites.
Not included
Personal travel insurance
Personal travel insurance is not included in the holiday price. It is advisable to take out your travel insurance at the time of booking your trip as cover will commence for pre-departure cancellation from the policy issue date. You can arrange your personal travel insurance on
our website
.
Optional excursions and services
Optional excursions and services not listed in the itinerary. Please let us know if you wish to book any additional excursions.
Meet your guide and driver either at the airport or the train station. Once introduced, you will head west towards the HS Khaan Hotel Resort, a short drive away. The hotel resort is located on a hill overlooking vast emerald green valley where the Naadam Festival horse racing event takes place in July. Its sweeping views are a great introduction to this giant land. Accommodations are modified Mongolian traditional dwelling - a 'ger' - with all the mod cons and a huge window which has an unobstructed view of the surrounding area. Bring your camera! (L/D)
Day 2. Ulan Bator - Dalanzadgad - Khongor Els Sand Dunes
After a breakfast at the hotel resort we will drive to the airport for your domestic flight to Gobi. Upon arrival we will set off for the magical Khongoryn Els Sand Dunes that stretch for 180 km at the foot of the beautiful Gurvan Saikhan (Three beauties of the Gobi) Mountain Range. Have lunch upon arrival at Gobi-Erdene camp. Enjoy dinner and spend the night at this comfortable ger camp. Driving distance – 260 km (160 miles). (B/L/D)
We will have breakfast at the ger camp and drive on to the Yol Valley to embark on a full day excursion to the Yol Valley National Park, which will mean scenic hiking and an opportunity to photograph the stunning landscape. Enjoy an alfresco picnic lunch at the park. We will either spend the afternoon hiking or relaxing. Overnight stay in a luxury ger camp. Driving distance – 220 km (135 miles). (B/L/D)
After breakfast at the camp, it will be time to explore the world famous Flaming Cliffs (Bayanzag), home to dinosaur fossils and dinosaur eggs. This unique site put Mongolia on the map in terms of explorers and we will follow in the footsteps of the world-famous paleontologist Roy Chapman Andrews. Later, we will visit a local family of camel breeders and enjoy the traditional hospitality of Mongolian nomads. We will also get to go on a short camel ride. Enjoy dinner and spend the night in a comfortable ger camp near Flaming Cliffs. Driving distance – 90 km (55 miles). (B/L/D)
Day 5. Dalanzadgad - Ulan Bator - Terelj
After breakfast we will drive to Dalanzadgad for our domestic flight to Ulan Bator. Upon arrival we will make a brief transfer to Terelj National Park located 80 km north-east from the capital where we will enjoy the scenery of the park. Our tour will include a visit to the unusual Turtle Rock and we will saddle up for some horse riding. Overnight stay at luxury five star Terelj Hotel. Driving distance – 120 km (75 miles). (B/L/D)
After breakfast, we will set out on a full day city tour that will take in Sukhbaatar Square, the National History Museum, Zaisan Hill, Bogd Khan Winter Palace Museum followed by a shopping experience at the State department Store and Gobi Cashmere Factory Store after lunch. Later, we will enjoy a farewell dinner in a special restaurant which benefits from a panoramic view of the capital city. Spend the night at a five star hotel. (B/L/D)
Breakfast at the hotel. Our driver will meet you at the hotel lobby. Transfer to the airport for your flight back home. (B).
Want to travel on different dates?
Please see below for our group tour dates, if you would like to travel on a different day, please
let us know
and we will come back to you with an offer. There might be additional surcharges for a private tour but all depends on the number of people in your party and your travel preferences.
Address: Kempinski Hotel Khan Palace, East Cross Road, Peace Avenue, Bayanzurkh District, Ulan Bator, Mongolia
Telephone: +976 11 463 463
DESCRIPTION
Kempinski Hotel Khan Palace is the first and only 5* star rated international hotel in Mongolia. It is located in the heart of Bayanzurkh district in the eastern part of Ulaanbaatar, 22 kilometres from the international airport and 6 kilometres from the central railway station.
The hotel has 102 luxury rooms: 27 superior rooms, 66 deluxe, 4 junior suites, 4 executive suites and 1 presidential suite. The charm of this traditional hotel is that European flair runs through every aspect from the furniture to the décor. Luxury is distinctly represented in every detail of each room regardless of its type. Each room features marbled bathrooms with luxurious bathing products, hairdryer, bathrobe and slippers.
There is 24-hour fitness centre and sauna which are complimentary for the hotel guests. There is also a luxury spa in Kempinski Hotel Khan Palace. The onsite restaurant serves authentic Asian and European cuisine. Kempinski Hotel Khan Palace offers 24 hour room service, twice a day house keeping service. Free Wi-Fi is available in all public areas and rooms of the hotel.
PHOTOGALLERY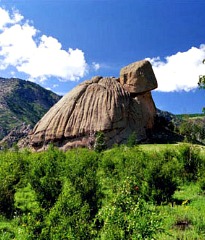 Terelj National Park - area of magnificent alpine scenery
Gorkhi Terelj National Park is one of the Mongolia's finest and best-known national parks. It is located just an hour's drive away from Ulan Bator. The park is named after 'Terelj', a famous local plant that flowers at the end of spring. This is an area of magnificent alpine scenery that is especially impressive due to its strangely shaped rock formations: Turtle Rock and the Praying Lama Rock. Terelj offers great opportunities for relaxation, slow walking, as well as horse-riding. There is also a Buddhist monastery that is open to public.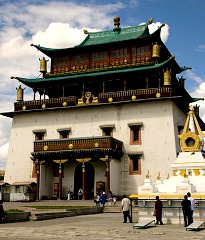 Gandan Monastery
The Gandan Monastery (full name Gandantegchinlen Khiid) is a Tibetan-style monastery in Ulan Bator. It was established in 1835 and is the largest and most significant in Mongolia. Its name translates to the "Great Place of Complete Joy". It was the only place where Buddhist services continued during the communist years and fortunately it escaped the mass architectural destruction of 1937. The monastery was restored and revitalised since 1990.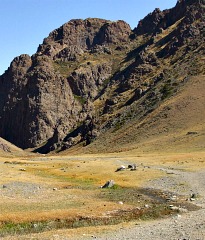 Yol Valley - the Valley of the Eagles
The valley is named after the Lammergeier - bearded vulture - which is called Yol in Mongolian. Its name is often translated to Valley of the Vultures or Valley of the Eagles, or simply Yol Valley. It is located within Gobi Gurvansaikhan National Park and spans an area of 70 km. It is a deep and narrow gorge, following the canyon through to the end, leads to a beautiful wide valley which is very rich in rare plants. There is a small natural museum at the entrance of the national park.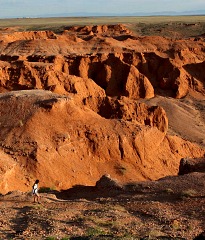 Flaming Cliffs - dinosaur fossils
The Flaming Cliffs, also known as Bayanzag (saxaul tree forest of the Gobi), is a region of the Gobi desert where important dinosaur fossil finds have been made. The name was given by the American paleontologist Roy Chapman Andrews, who visited the site in 1920. The area is most famous for the first discovery of dinosaur eggs as well as complete dinosaur skeletons. The rocks exudes a glowing orange colour, hence the nickname. The area is a mixture of rocks, red sand, saxaul shrubs offering awesome views under sunlight as well as at dawn.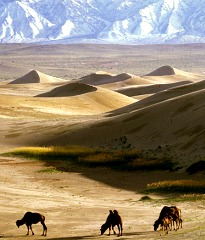 Khongor Els - singing dunes
Singing Dunes also known as Khongor Els are the largest sand dunes in Mongolia reaching a height of up to 800 meter and stretching over 180 km (112 miles). The dunes are part of Three Beauties of Gobi National Park. The sound produced from the masses of sand moving in the wind can be heard from far away, hence the name. Depending on the day time and sun light the dunes change their colour, from yellow to silver. The Khongoryn River flows along the sand dunes offering valuable drinking water for the local wildlife as well as giving birth to oases. Breathtaking views can be enjoyed from the top of the dunes.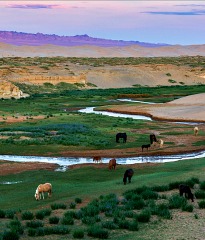 Three Beauties of the Gobi National Park
Gobi Gurvansaikhan (Three Beauties of the Gobi) is located in southern Mongolia on the northern edge of the Gobi desert. It is the largest national park in Mongolia. The park is home to some rare species including the elusive snow leopard and the Gobi camel. The park is also famous for the Khongor Els Singing Dunes and Yolyn Am (Yol Valley) - a mountain valley that contains a large ice field through most of the year.