A Taste of the Gobi by Air - a Short Acquaintance with the Desert (MN-08)
The Gobi Desert is a legendary place. Feared as uninhabitable yet attracting travellers with its myths and folklore. It is a massive swathe of land, covering one third of Mongolia, and it is as fascinating as it is forbidding. Here, geography, history and pre-history mix with plants, animals and human society. Mongolians list no less than 33 types of 'gobi', depending on soil colour and composition – it is a surprisingly complex place. There is a lot of variety within the Gobi Desert, from wildlife parks and mountains to canyons with dramatic rockfaces. This tour is suitable for any one wishing to explore the main highlights of the Gobi desert during a short period of time.

Day 1. Ulan Bator - Dalanzadgad - Khongor Els Sand Dunes

Transfer to the airport for a domestic flight to the Gobi. Upon arrival we depart for the remarkable Khongoryn Els sand dunes. In the afternoon we will visit a camel breeding family and go on a camel ride to explore the dunes. Overnight in a ger camp.

We will visit Bayanzag, the Flaming Cliffs, and explore the Cemetery of Dinosaurs. We will enjoy an evening of the silence of the Gobi by overnighting in gers.

Day 3. Yol Valley - Dalanzadgad - Ulan Bator

Visit to the fascinating Yol Valley National Park where we'll have a morning trek and plenty of opportunity to photograph the stunning landscape. Late morning flight to Ulan Bator. Transfer to your hotel.

Click here to view detailed day-by-day itinerary of this tour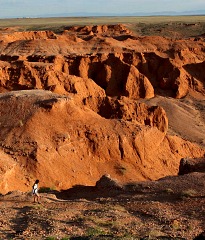 Bayanzag - Flaming Cliffs
Bayazang or the Flaming Cliffs site is a region of the Gobi Desert in the Omnogovi Province of Mongolia, in which important fossil finds have been made, including the most famous -...
Read more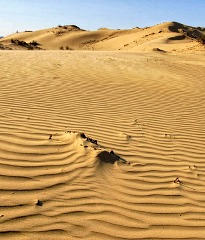 Dalanzadgad - Gateway to the Gobi
Dalanzadgad is the capital of the province of Omnogovi Aimag, located 540 kilometres (340 miles) south of Ulan Bator in the South Gobi. The town is rapidly developing due to mining...
Read more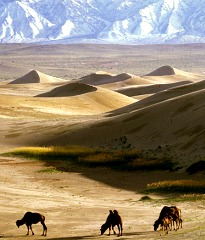 Hongor Els Sand Dunes (Singing Dunes)
The evocatively named Singing Sands stretch for 180 km and are up to 800 metres high, making them some of the largest sand dunes in Mongolia. The sound produced from the masses of ...
Read more
Ulan Bator
Capital of Mongolia was formerly called Urga. It was renamed Ulan Bator after a declaration of republic and the abolition of monarchy in 1924. Ulan Bator literally means Red Hero a...
Read more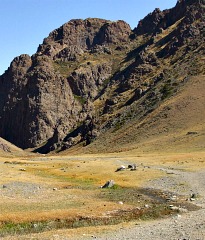 Yol Valley - The Valley of the Eagles
The Yol Valley, a protected site since 1965, lies 62 km north-west of Dalanzadgad and spans an area of 70 sq. km. The valley is located within the Gobi Gurvansaikhan National Park ...
Read more
Tour Inclusions
Not included
Quick Facts
Season

: Summer

Days

: 3

Group Size

: 2-12

Tour Grade

:
Included in the Tour Price
Accommodation
All accommodation at your destination is included in the holiday price. Hotel category - according to the package type selected.
Guided tours & cultural programme
All tours with entrance fees listed in the itinerary are included in the holiday price. There will be an English-speaking guide on all tours. Please note, we can arrange guides speaking other languages upon request. Please let us know your preferences.
Full-board meals
Full board (breakfast, lunch and dinner) each day. Service begins with dinner on the day of arrival and ends with breakfast on the day of departure. Depending on the itinerary you may be served a packed lunch on your tour. Please advise us if you have any special dietary requirements.
Domestic transport at your destination
All domestic transportation at your destination is included as per the itinerary: air conditioned vehicles, 2nd class train, economy flights if applicable. Any 1st class upgrade for train, higher class for air travel are subject to surcharges. For sightseeing we use a comfortable coach, car or minibus; or can also go on foot.
Airport & railway transfers
All airport and railway transfers as per itinerary are included in the tour price. We will also provide airport transfers if you arrange your own arrival / departure flights regardless of the time of the flight, you will need to let us know your flight details. We operate all transfers 24 hours a day.
Not included
Personal travel insurance
Personal travel insurance is not included in the holiday price. It is advisable to take out your travel insurance at the time of booking your trip as cover will commence for pre-departure cancellation from the policy issue date. You can arrange your personal travel insurance on
our website
.
Optional excursions and services
Optional excursions and services not listed in the itinerary. Please let us know if you wish to book any additional excursions.
Visas fee
Visas fee
Day 1. Ulan Bator - Dalanzadgad - Khongor Els Sand Dunes
We begin with a hearty breakfast at the hotel, before we are transferred to the airport for a flight to the Gobi base camp. First we depart for the remarkable Khongoryn Els sand dunes, that stretch 180 km (110 miles) at the foot of the striking Gurvan Saikhan Mountain range. We will stop for lunch on arrival. A fascinating afternoon awaits us – including a visit to a camel breeding family and camel riding to explore the dunes. Dinner and overnight in ger camp. Driving distance – 200 km (125 miles). (L/D).
We will breakfast at the base camp, then will gradually backtrack to our main camp with a packed lunch. On the way we will visit Bayan Zag, the Flaming Cliffs, and explore the Cemetery of Dinosaurs, following in the footsteps of the explorer Roy Chapman Andrews. We will enjoy an evening of the silence of the Gobi Desert by overnighting in Mongolian gers. Driving distance – 80 km (50 miles). (B/L/D).
Day 3. Yol Valley - Dalanzadgad - Ulan Bator
Breakfast at the base camp. We will conclude today with a visit to the fascinating Yol (Lammergeyer) Valley National Park (50 km, 32 miles) where we'll have a morning trek and plenty of opportunity to photograph the stunning landscape, including the Gobi Glacier and intriguing wildlife. Late morning flight to Ulan Bator. Transfer to your hotel. (B).
Want to travel on different dates?
Please see below for our group tour dates, if you would like to travel on a different day, please
let us know
and we will come back to you with an offer. There might be additional surcharges for a private tour but all depends on the number of people in your party and your travel preferences.
COMFORT - 3* PACKAGE

| | | | | |
| --- | --- | --- | --- | --- |
| Dates | Excl. flights | Incl. flights * | Single supplement ** | Book |
| 04.05.2024 - 06.05.2024 | £1,195 | £2,095 | £75 | book now |
| 11.05.2024 - 13.05.2024 | £1,195 | £2,095 | £75 | book now |
| 18.05.2024 - 20.05.2024 | £1,195 | £2,095 | £75 | book now |
| 25.05.2024 - 27.05.2024 | £1,195 | £2,095 | £75 | book now |
| 01.06.2024 - 03.06.2024 | £1,195 | £2,095 | £75 | book now |
| 08.06.2024 - 10.06.2024 | £1,195 | £2,095 | £75 | book now |
| 15.06.2024 - 17.06.2024 | £1,195 | £2,095 | £75 | book now |
| 22.06.2024 - 24.06.2024 | £1,195 | £2,095 | £75 | book now |
| 29.06.2024 - 01.07.2024 | £1,195 | £2,095 | £75 | book now |
| 06.07.2024 - 08.07.2024 | £1,195 | £2,095 | £75 | book now |
| 13.07.2024 - 15.07.2024 | £1,195 | £2,095 | £75 | book now |
| 20.07.2024 - 22.07.2024 | £1,195 | £2,095 | £75 | book now |
| 27.07.2024 - 29.07.2024 | £1,195 | £2,095 | £75 | book now |
| 03.08.2024 - 05.08.2024 | £1,195 | £2,095 | £75 | book now |
| 10.08.2024 - 12.08.2024 | £1,195 | £2,095 | £75 | book now |
| 17.08.2024 - 19.08.2024 | £1,195 | £2,095 | £75 | book now |
| 24.08.2024 - 26.08.2024 | £1,195 | £2,095 | £75 | book now |
| 31.08.2024 - 02.09.2024 | £1,195 | £2,095 | £75 | book now |
| 07.09.2024 - 09.09.2024 | £1,195 | £2,095 | £75 | book now |
| 14.09.2024 - 16.09.2024 | £1,195 | £2,095 | £75 | book now |
| 21.09.2024 - 23.09.2024 | £1,195 | £2,095 | £75 | book now |

* Price including flights will be reconfirmed by your travel consultant as we need to know your departure airport, preferred airline, dates and class of travel. Our prices are based on economy fares from London Heathrow.

** Single supplement goes towards single room accommodation at your hotel, ger camp.
Address: Park Hotel, Lhagvasuren street-32, 4th Khoroo, Bayanzurkh, Ulan Bator, Mongolia
Telephone: +976 7015 9900
DESCRIPTION
Park hotel is a newly opened 4* hotel in Ulan Bator, located in the south – eastern part of the Mongolian capital, about 8 kilometres from the central train station and 19 kilometres from the international airport.
Park hotel has 52 rooms, including comfortable and spacious standard twin, king, superior rooms and deluxe junior suites. All rooms are equipped with individually controlled air-conditioning, 32' LCD television, high speed internet access, mini bar, hairdryer. Deluxe junior suite has a bar and extra bathroom for guests.
Park hotel offers 24 hour room service, luggage storage, spa and fitness facilities, currency exchange and business centre services. There is also park restaurant, tequila lounge and a coffee shop. Visa and Master card are accepted.
PHOTOGALLERY
In the countryside your accommodation will be in a typical ger camp located in scenic areas. Every couple or a single traveller are allocated a private ger unless you are willing to share with other travellers. All ger camps are very similar in their set –up, facilities and services.

A "ger" or a yurt is a traditional, portable dwelling structure used by Mongolian nomads in the countryside, it is their link with the past, future and spiritual world. The central pillar – the smoke hole on the top of the tent is directly directed to cosmic axis and represents highway for spirits as according to Mongolian traditions, the universe is full of invisible spirits and humans have to develop good relationship with them, win them over and not to offend them.

Ger camps we use on our tours are slightly modified for Western travellers, however they do offer a genuinely authentic experience and most of them are situated in picturesque areas. The gers are made of a wooden frame that is covered with felt. Inside they are generally brightly painted and feature two or four single beds, a small table, stools, a lamp, electricity sockets and a stove for heating. You can ask a member of staff to start the fire in your ger at a specified time to make it warm, for example early in the morning before you get up.

Toilet and shower facilities are outside in a separate block, they are basic but are kept very clean. There is both hot and cold water available. Restaurants and bars are located in separate blocks or quite often in larger gers.

Staying in a typical ger really adds to your travelling experience.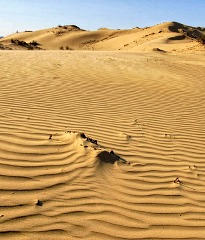 Gobi Desert - unique natural phenomenon
The Gobi is a large desert region in Asia covering much part of southern Mongolia. The Gobi is most notable in history as part of the great Mongol Empire. Great Gobi National Park is also one of the largest world biosphere reservations with an area larger than some European countries. The desert is made up of several distinct ecological and geographic regions based on variations in climate and topography. The Gobi is the source of many important fossil finds, including the first dinosaur eggs and skeletons, it also contains the last remaining wild Bactrian two-humped camels. Travelling in Gobi offers breathtaking views of rocks, red and yellow sand dunes, saxaul forest, oases and incredible emptiness.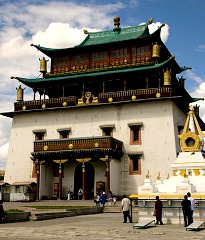 Gandan Monastery
The Gandan Monastery (full name Gandantegchinlen Khiid) is a Tibetan-style monastery in Ulan Bator. It was established in 1835 and is the largest and most significant in Mongolia. Its name translates to the "Great Place of Complete Joy". It was the only place where Buddhist services continued during the communist years and fortunately it escaped the mass architectural destruction of 1937. The monastery was restored and revitalised since 1990.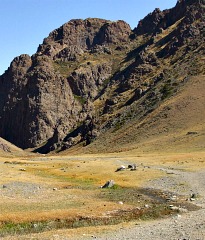 Yol Valley - the Valley of the Eagles
The valley is named after the Lammergeier - bearded vulture - which is called Yol in Mongolian. Its name is often translated to Valley of the Vultures or Valley of the Eagles, or simply Yol Valley. It is located within Gobi Gurvansaikhan National Park and spans an area of 70 km. It is a deep and narrow gorge, following the canyon through to the end, leads to a beautiful wide valley which is very rich in rare plants. There is a small natural museum at the entrance of the national park.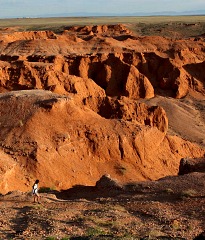 Flaming Cliffs - dinosaur fossils
The Flaming Cliffs, also known as Bayanzag (saxaul tree forest of the Gobi), is a region of the Gobi desert where important dinosaur fossil finds have been made. The name was given by the American paleontologist Roy Chapman Andrews, who visited the site in 1920. The area is most famous for the first discovery of dinosaur eggs as well as complete dinosaur skeletons. The rocks exudes a glowing orange colour, hence the nickname. The area is a mixture of rocks, red sand, saxaul shrubs offering awesome views under sunlight as well as at dawn.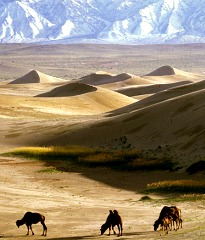 Khongor Els - singing dunes
Singing Dunes also known as Khongor Els are the largest sand dunes in Mongolia reaching a height of up to 800 meter and stretching over 180 km (112 miles). The dunes are part of Three Beauties of Gobi National Park. The sound produced from the masses of sand moving in the wind can be heard from far away, hence the name. Depending on the day time and sun light the dunes change their colour, from yellow to silver. The Khongoryn River flows along the sand dunes offering valuable drinking water for the local wildlife as well as giving birth to oases. Breathtaking views can be enjoyed from the top of the dunes.