A Mongolian Rail Adventure - World Energy Centre and Eastern Gobi Exploration by Train (MN-05)
Mongolia's Dornogobi (Eastern Gobi) province is located in the south-east of the country and bordering the world's most populous country, China. It forms part of the Gobi desert belt. Sand dunes are so huge here that they are named, there is Burden Gashuun, Tsagaan Els and Tavan Tolgoi, all of which stretch along the borders of the aimag (province). The main attraction of the region is Khamriin Khiid Monastery, which was founded by the famous monk and poet of the 19th century Danzan Ravjaa. Sadly it had laid in ruins since the 1930s. Today, a new monastery, with two temples, has re-opened. Near the caves, where Danzan Ravjaa and his disciples meditated, there are nine stupas built to commemorate him. Dinosaur bones and fossils have also been found in the area.

World Energy Centre lies on the famous Trans-Mongolian railway line. This tour is a rail adventure through one of the world's largest and little-known countries that offers the chance of adventure like no other.

Transfer to the railway station and take the train to Gobi.

Day 2. Sainshand - Dornogobi province

We will arrive at Sainshand and move onto a ger camp where we will visit a nomadic family. We will start our camel expedition to explore sites of rare paleontological finds, varied landscapes and sand dunes. Overnight in camp.

Day 3. World Energy Centre

We start with the heritage of Noble Saint Danzanravjaa, then visit the caves where Buddhist monks used to meditate for 108 days. We will then drive to the fabled land of Shambala where we will attend a religious ceremony at the historic Khamriin Khiid monastery. Departure to Ulan Bator by train.

Arrival at the train station, transfer to the hotel.

Click here to view detailed day-by-day itinerary of this tour
Ulan Bator
Capital of Mongolia was formerly called Urga. It was renamed Ulan Bator after a declaration of republic and the abolition of monarchy in 1924. Ulan Bator literally means Red Hero a...
Read more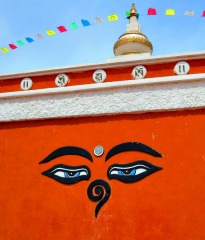 World Energy Centre in the Gobi (Khamriin Khiid Monastery)
The World Energy Centre is vitally important to Mongolian culture, as it is where Mongolian Buddhists believe that all the energy of the world converges. Located in Dorngobi provin...
Read more
Tour Inclusions
Not included
Quick Facts
Season

: Four Seasons

Days

: 4

Group Size

: 2-12

Tour Grade

:
Included in the Tour Price
Accommodation
All accommodation at your destination is included in the holiday price. Hotel category - according to the package type selected.
Guided tours & cultural programme
All tours with entrance fees listed in the itinerary are included in the holiday price. There will be an English-speaking guide on all tours. Please note, we can arrange guides speaking other languages upon request. Please let us know your preferences.
Full-board meals
Full board (breakfast, lunch and dinner) each day. Service begins with dinner on the day of arrival and ends with breakfast on the day of departure. Depending on the itinerary you may be served a packed lunch on your tour. Please advise us if you have any special dietary requirements.
Domestic transport at your destination
All domestic transportation at your destination is included as per the itinerary: air conditioned vehicles, 2nd class train, economy flights if applicable. Any 1st class upgrade for train, higher class for air travel are subject to surcharges. For sightseeing we use a comfortable coach, car or minibus; or can also go on foot.
Airport & railway transfers
All airport and railway transfers as per itinerary are included in the tour price. We will also provide airport transfers if you arrange your own arrival / departure flights regardless of the time of the flight, you will need to let us know your flight details. We operate all transfers 24 hours a day.
Not included
Personal travel insurance
Personal travel insurance is not included in the holiday price. It is advisable to take out your travel insurance at the time of booking your trip as cover will commence for pre-departure cancellation from the policy issue date. You can arrange your personal travel insurance on
our website
.
Optional excursions and services
Optional excursions and services not listed in the itinerary. Please let us know if you wish to book any additional excursions.
Visas fee
Visas fee
Today we take the train to Gobi. After a little time in the unique railway station we board the 9:30 to Sainshand (Dornogobi). (D).
Day 2. Sainshand - Dornogobi province
A beautiful nature tour awaits us today, which includes a camel trek. What could be more romantic than exploring the Gobi on an iconic camel? We will arrive at Sainshand and move onto a ger camp where we will also visit a nomadic family. After a brief introduction on the art of camel riding, we will start our camel expedition to explore sites of rare paleontological finds, varied landscapes and sand dunes. Our boxed lunch will be in the shadow of these fabulous beasts. Dinner and overnight in camp. (You might even be lucky enough to catch a star falling from the Gobi sky). (B/L/D).
Day 3. World Energy Centre
In contrast to yesterday, today is all about culture. We start with the heritage of Noble Saint Danzanravjaa, then visit the caves where Buddhist monks used to meditate for 108 consecutive days. We will then drive to the fabled land of Shambala (where you will note eight different types of stupas). Here, we will attend a religious ceremony at the historic Khamriin Khiid monastery. After lunch, we'll head back to Sainshand to visit the Museum of Danzanravjaa. Later, we will depart to Ulan Bator by train. (B/L).
Arrival at the train station, transfer to the hotel.
Want to travel on different dates?
Please see below for our group tour dates, if you would like to travel on a different day, please
let us know
and we will come back to you with an offer. There might be additional surcharges for a private tour but all depends on the number of people in your party and your travel preferences.
COMFORT - 3* PACKAGE

| | | | | |
| --- | --- | --- | --- | --- |
| Dates | Excl. flights | Incl. flights * | Single supplement ** | Book |
| 04.05.2024 - 07.05.2024 | £595 | £1,495 | £45 | book now |
| 11.05.2024 - 14.05.2024 | £595 | £1,495 | £45 | book now |
| 18.05.2024 - 21.05.2024 | £595 | £1,495 | £45 | book now |
| 25.05.2024 - 28.05.2024 | £595 | £1,495 | £45 | book now |
| 01.06.2024 - 04.06.2024 | £595 | £1,495 | £45 | book now |
| 08.06.2024 - 11.06.2024 | £595 | £1,495 | £45 | book now |
| 15.06.2024 - 18.06.2024 | £595 | £1,495 | £45 | book now |
| 22.06.2024 - 25.06.2024 | £595 | £1,495 | £45 | book now |
| 29.06.2024 - 02.07.2024 | £595 | £1,495 | £45 | book now |
| 06.07.2024 - 09.07.2024 | £595 | £1,495 | £45 | book now |
| 13.07.2024 - 16.07.2024 | £595 | £1,495 | £45 | book now |
| 20.07.2024 - 23.07.2024 | £595 | £1,495 | £45 | book now |
| 27.07.2024 - 30.07.2024 | £595 | £1,495 | £45 | book now |
| 03.08.2024 - 06.08.2024 | £595 | £1,495 | £45 | book now |
| 10.08.2024 - 13.08.2024 | £595 | £1,495 | £45 | book now |
| 17.08.2024 - 20.08.2024 | £595 | £1,495 | £45 | book now |
| 24.08.2024 - 27.08.2024 | £595 | £1,495 | £45 | book now |
| 31.08.2024 - 03.09.2024 | £595 | £1,495 | £45 | book now |
| 07.09.2024 - 10.09.2024 | £595 | £1,495 | £45 | book now |
| 14.09.2024 - 17.09.2024 | £595 | £1,495 | £45 | book now |
| 21.09.2024 - 24.09.2024 | £595 | £1,495 | £45 | book now |

* Price including flights will be reconfirmed by your travel consultant as we need to know your departure airport, preferred airline, dates and class of travel. Our prices are based on economy fares from London Heathrow.

** Single supplement goes towards single room accommodation at your hotel, ger camp.
In the countryside your accommodation will be in a typical ger camp located in scenic areas. Every couple or a single traveller are allocated a private ger unless you are willing to share with other travellers. All ger camps are very similar in their set –up, facilities and services.

A "ger" or a yurt is a traditional, portable dwelling structure used by Mongolian nomads in the countryside, it is their link with the past, future and spiritual world. The central pillar – the smoke hole on the top of the tent is directly directed to cosmic axis and represents highway for spirits as according to Mongolian traditions, the universe is full of invisible spirits and humans have to develop good relationship with them, win them over and not to offend them.

Ger camps we use on our tours are slightly modified for Western travellers, however they do offer a genuinely authentic experience and most of them are situated in picturesque areas. The gers are made of a wooden frame that is covered with felt. Inside they are generally brightly painted and feature two or four single beds, a small table, stools, a lamp, electricity sockets and a stove for heating. You can ask a member of staff to start the fire in your ger at a specified time to make it warm, for example early in the morning before you get up.

Toilet and shower facilities are outside in a separate block, they are basic but are kept very clean. There is both hot and cold water available. Restaurants and bars are located in separate blocks or quite often in larger gers.

Staying in a typical ger really adds to your travelling experience.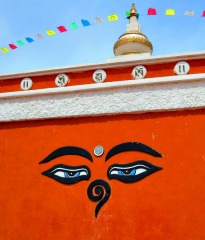 Khamriin Khiid Monastery - World Energy Centre
Located in Dorngobi province in the eastern Gobi desert, the centre has grown up around the cult of Danzan Ravjaa (1803 - 1856) whom many locals once revered as a living god. Besides being the Lama of the Gobi, Danzan Ravjaa was also a famous writer, composer, painter and physician. The main attraction of the region is the Khamriin Khiid Monastery (Khamar Monastery) which was founded in 1820 by Danzan Ravjaa who chose the site believing that the area contained spiritual energy fostered by the Gobi desert.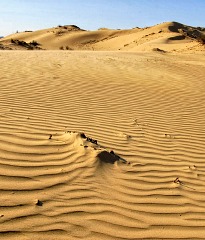 Gobi Desert - unique natural phenomenon
The Gobi is a large desert region in Asia covering much part of southern Mongolia. The Gobi is most notable in history as part of the great Mongol Empire. Great Gobi National Park is also one of the largest world biosphere reservations with an area larger than some European countries. The desert is made up of several distinct ecological and geographic regions based on variations in climate and topography. The Gobi is the source of many important fossil finds, including the first dinosaur eggs and skeletons, it also contains the last remaining wild Bactrian two-humped camels. Travelling in Gobi offers breathtaking views of rocks, red and yellow sand dunes, saxaul forest, oases and incredible emptiness.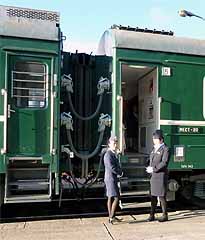 Trans-Mongolian railway
This is a unique chance to travel on a famous Trans-Mongolian railway or Transsib which is a working train and is the lifeline of Siberia. It connects Russia with Mongolia and China. There are only a few intercity roads of reasonable quality that connect the cities and settlements along the route.