Golden Triangle & Gardens of China: Beijing, Xian, Shanghai, Suzhou - 9 Days (CN-04)
This fantastic tour is a great way to discover the highlights of China and to get under the skin of some of its finest cities. China is huge and its enormous cities offer the traveller a hub on which to focus – they offer excellent museums, galleries, shops, restaurants, architecture and so much more. Each one has its own distinct identity, people and style. You will also visit famous gardens of Suzhou and enjoy a harmony of natural beauty.

You'll be met by our driver and be transferred to the hotel. We start with the past on this tour and delve into Beijing's famous 'hutongs'. Our rickshaw will get us in amongst it all.

Today we start in the heart of the city, in Tiananmen Square. Next, we'll enjoy a guided tour of the Forbidden City and the Imperial Palace and explore the elegant Summer Palace. In the evening we will treat ourselves to a roast duck dinner.

Time to meet China's most famous symbol - the Great Wall! After, we'll see the site of Beijiing 2008 Olympics. In the evening, prepare to be amazed by the antics of Beijing finest Acrobatic Shows.

This morning you board the morning bullet train to Xian. You will be met at the station and taken to start your Xian city tour. We will also enjoy the Tang Dynasty Singing & Dancing Dinner Show that night.

A real Chinese highlight is in store today: the marvellous Terracotta Army that attracts millions of tourists from around the globe every year. Afterwards, on to Shanghai to board an overnight sleeper.

You'll be met from the train and taken to the hotel. Then you'll start exploring this fascinating city accompanied by our guide.

Starting in old Shanghai you will visit a peaceful garden next to the City God Temple. Then you'll move to the future with a visit to the Oriental Pearl TV Tower. We'll finish on Nanjing Road, city's main shopping street.

Today you will travel to China's own garden city – Suzhou. Sometimes called 'Eastern Venice' it excels in the art of islands, water and landscape design. Transfer back to Shanghai in the evening.

Our driver will meet you in the hotel lobby and take you to the airport.

Click here to view detailed day-by-day itinerary of this tour

Tour Inclusions

Not included

Quick Facts
Season

: Four Seasons

Days

: 9

Group Size

: 2-14

Tour Grade

:
Included in the Tour Price
International flights
Our advertised package price is based on economy flights from / to London. If you depart from a regional airport in the UK or another country, there might be additional surcharges for international airfares. Upon booking a tour you will be offered various flight options. Please note, the package price depends on the availability of flight tickets and will be reconfirmed by your travel consultant. The airfare is not guaranteed unless ticketed. We advise to book sooner than later as the airfare may go up closer to your departure date, especially during high seasons.
Accommodation
All accommodation at your destination is included in the holiday price. Hotel category - according to the package type selected.
Guided tours & cultural programme
All tours with entrance fees listed in the itinerary are included in the holiday price. There will be an English-speaking guide on all tours. Please note, we can arrange guides speaking other languages upon request. Please let us know your preferences.
Full-board meals
Full board (breakfast, lunch and dinner) each day. Service begins with dinner on the day of arrival and ends with breakfast on the day of departure. Depending on the itinerary you may be served a packed lunch on your tour. Please advise us if you have any special dietary requirements.
Evening entertainment
Entrance fees for evening entertainment as per itinerary.
Domestic transport at your destination
All domestic transportation at your destination is included as per the itinerary: air conditioned vehicles, 2nd class train, economy flights if applicable. Any 1st class upgrade for train, higher class for air travel are subject to surcharges. For sightseeing we use a comfortable coach, car or minibus; or can also go on foot.
Airport & railway transfers
All airport and railway transfers as per itinerary are included in the tour price. We will also provide airport transfers if you arrange your own arrival / departure flights regardless of the time of the flight, you will need to let us know your flight details. We operate all transfers 24 hours a day.
Visa fees
Standard visa processing for UK residents is included in the tour price. Upon your booking we email detailed guidance notes how to complete the visa forms. All application packs are checked by our visa department before submission to the relevant consulates. If you are based overseas we will email all required paperwork for you to apply for the visas in the local consulate. Please read more about required visas in the tour description or our country guides on this websites.
Not included
Personal travel insurance
Personal travel insurance is not included in the holiday price. It is advisable to take out your travel insurance at the time of booking your trip as cover will commence for pre-departure cancellation from the policy issue date. You can arrange your personal travel insurance on
our website
.
Optional excursions and services
Optional excursions and services not listed in the itinerary. Please let us know if you wish to book any additional excursions.
Airport arrival, you'll be met by our driver and be transferred to the hotel. We start with the past on this tour and delve into Beijing's famous 'hutongs' – ancient city areas with narrow streets or alleys. The word 'hutong' dates back to the Yuan Dynasty in the 13th century. Our rickshaw will get us in amongst it all and you will quickly see how the city's architecture has developed. (D)
Today we start in the heart of the city, in Tiananmen Square. This imposing square is the fourth largest in the world, spanning 440,000 square metres. It stands at the Tiananmen Gate (the Gate of Heavenly Peace), separating it from the Forbidden City. Next, we'll enjoy a guided tour of the Forbidden City and the Imperial Palace. The Forbidden City is listed by UNESCO as the largest collection of preserved ancient wooden structures in the world, while the Palace has become the Palace museum and it houses a vast collection of Chinese artwork. Next we will explore the elegant Summer Palace, a place of Chinese landscape garden design and natural beauty. In the evening we will treat ourselves to a roast duck dinner. (B,L,D)
Time to meet China's most famous symbol – the Great Wall! You will visit the Badaling Great Wall situated in Yanqing County, approximately 70 kilometres (44 miles) north of Beijing, which is the most well-preserved section of the Wall. It is easy to see why the wall is a wonder of the world and on the UNESCO World Heritage List. After, we'll see the site of the Olympic Green and the Olympic park built in Beijing for 2008 for the Summer Olympics. In the evening, prepare to be amazed by the antics of Beijing finest Acrobatic Shows. (B,L,D)
This morning a taste of ultra-modern China as you board the morning bullet train to Xian. This high-speed train covers 711 miles from Beijing to Xian in just 4h and 40min. Enjoy the passing countryside. You will be met at the station and taken to start your Xian city tour. One of the four ancient capitals of China key sights that we will explore include: Big Goose Pagoda, Little Goose Pagoda, the City Wall, the most intact city wall in all of China, the Bell Tower, which signalled the gates city gates opening at dawn and the Great Mosque, one of the first Mosques built in China. We will stop for lunch at a local restaurant and enjoy the Tang Dynasty Singing & Dancing Dinner Show that night. (B,L,D)
A real Chinese highlight is in store today: the marvellous Terracotta Army that attracts millions of tourists from around the globe every year. On the UNESCO World Cultural Heritage list since 1987, the site was accidentally discovered in 1974 by local farmers. This famous stone army is estimated to have over 8000 soldiers, 520 horses, and 130 chariots and you will have a chance to examine the pits and walk up the burial mound of the emperor. Afterwards, on to Shanghai to board an overnight sleeper. Our driver will meet you in the hotel lobby to transfer you to the railway station to catch your train to Xian railway station. A choice of 2 and 4 berth compartments is available. (B,L,D)
You'll be met from the train and taken to the hotel to leave your luggage then you'll start exploring this fascinating city. Shanghai is the largest and busiest city in China with its ultra-modern architecture, quiet gardens, People's Square, the Shanghai Museum and the famous Bund, a mile-long riverside promenade. We will see all this, and more, today. (B,L,D)
Today's tour is a mix of old and new. Starting in old Shanghai you will visit a peaceful garden next to the City God Temple. Spread across five acres you'll find a rockery, a chamber of ten thousand flowers, pavilions and towers. Then you'll move to the future with a visit to the Oriental Pearl TV Tower. Built in 1994, the Pearl has 15 viewing levels. You'll finish on Nanjing Road, Shanghai's main shopping street and the longest shopping street in the world (5.5km). (B,L,D)
Today you will travel to China's own garden city – Suzhou. Sometimes called 'Eastern Venice' it excels in the art of islands, water and landscape design. There is a harmony of natural beauty and man-made structures here. You will take a boat trip on the Grand Canal to see the city from a different perspective and there will also be a stop at a silk factory to learn about the process of how this delicate fabric is made. This isn't a shopping stop, but an education. Transfer back to Shanghai in the evening. (B,L,D)
Our driver will meet you in the hotel lobby with a "China & Beyond" signboard and take you to the airport to catch your flight home. (B)
Want to travel on different dates?
Please see below for our group tour dates, if you would like to travel on a different day, please
let us know
and we will come back to you with an offer. There might be additional surcharges for a private tour but all depends on the number of people in your party and your travel preferences.
Address: No.1, Ti Yu Guan Road, Chong Wen District, Beijing 100061
Telephone: +86 10 6719 0666
DESCRIPTION
The Tiantan (The Temple Of Heaven) Hotel is a modern 4 star hotel located in downtown Beijing. The hotel was fully renovated in 2005 and opened in June that year. Tiantan hotel is just minutes walk from the famous Temple of Heaven and the nearby park. The major tourist attractions like Forbidden City and Tiananmen Square are within less than a 15-minute drive, and it is only 40 minutes to Beijing Capital International Airport.
There are 300 guest rooms in the Temple of Heaven hotel, all equipped with telephone, central air-conditioning, safe-box, mini-bar, satellite TV system and bed-side control panel.
The hotel also features Chinese and Western restaurants, coffee shop, lobby bar, karaoke dancing club, billiard and recreational centre with gym, sauna and massage room. Business centre offers fax, photocopying and telex services.
FACILITIES
24 hour reception
Private parking
Business centre
Deposit boxes

Air-conditioning
Night Club
Fitness centre and sauna
Beauty-centre
PHOTOGALLERY
Grand New World Hotel Xian 4*
Address: 172 Lian Hu Road, Xian, 710002
Telephone: +86 29 87 21 68 68
The Grand New World is one of the top 4* accommodation options in Xian. It opened in 1989 and was designed for both leisure and business travellers. The hotel owners have strived to achieve a balance between the ancient and new. With world-class facilities and services designed to please even the most demanding customers, they also try to preserve the spirit of the historical Xian. The decoration of the lobby with frescos and its sculpture of Emperor Qin Shi Huang, reflects the Chinese past and splendid culture.
The hotel is located within the ancient part of Xian close to the City Wall, Great Mosque of Xian and the Drum and Bell Towers. There underground station (line 1) is in front of the hotel.
The hotel has 471 superior rooms and exclusive deluxe suites all equipped with en-suite facilities, air-conditioning, TV with international channels and minibar.
The fabulous Dynasty Chinese and Western restaurants at the Grand New World hotel offer first class international and Asian favourites served in an elegant setting.
The hotel also features a spacious fitness centre with table tennis, yoga room and indoor swimming pool.
Free WiFi is available in public areas.
FACILITIES
24 hour reception
ATM
Restaurants, bar / lounge
Deposit boxes
Air-conditioning

Business centre
Fitness centre
Swimming pool
Beauty salon
Free WiFi in public areas
PHOTOGALLERY
Shanghai Marriott Courtyard Puxi 4*
Address: 338 Heng Feng Road, Shanghai 200070
Telephone: +86 21 22 15 38 88
DESCRIPTION
Courtyard Puxi is the brand's largest hotel in China and third largest in the world. It is conveniently located within a 5-minutes walk from Shanghai railway and underground stations (line 1, 3 and 4), Shanghai's main tourist attractions - Nanjing Road, Jingan Temple and the People's Square – are all within easy access from the hotel. It will take you about one hour to reach Pudong International Airport by car.
The hotel has 411 guest rooms and 40 luxury suites located over 30 floors. Spacious rooms with modern amenities and comprehensive hotel facilities ensure the stay a total success. All rooms feature high speed internet access, large desks, 37-inch LCD TV with international channels, in-room safe, mini-bar, tea & coffee service, hair dryer and iron.
Dining facilities include MoMo Café or takeaway at MoMo 2 Go. Coffee, tea, cocktails and other drinks are offered at the hotel lounge. There are plenty of restaurants serving local Sichuan or international cuisine in the nearby area.
There is a business centre and 24-hour fitness centre with indoor swimming pool in the hotel.
FACILITIES
24 hour reception
ATM
Café, take away, lounge
Deposit boxes
Air-conditioning

Business centre
Fitness centre
Swimming pool
Gift shop
PHOTOGALLERY
Best of China: Beijing, Xian, Guillin & Li River, Shanghai, Suzhou - 11 Days (CN-05)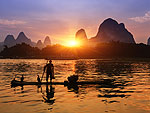 China's cities dominate the eastern coast and are what most people think of when they think of China. But the country also excels in natural beauty. After the excitement and buzz of China's mega-cities it is refreshing to see another, quieter side. This tour has all this, the best cities, a cruise on the majestic Li River & a visit to the garden city of Suzhou.

11 days
Great China Discovery with Majestic Yangtze River Cruise - 12 Days (CN-06)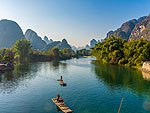 China's mega cities are just one side of this great land. The Yangtze River is also a highlight. One of the world's largest waterways, it flows through China's varied scenery from its source in Qinghai Province slicing the country neatly into north and south. This tour is a fun-filled and enlightening way to see many of China's highlights.

12 days
Best of the Gobi by Air - Exploration Tour with Luxury Accommodation (MN-07)
This short adventure packs a lot into a few days. By the end travellers will understand this fabled part of the earth as well as appreciating Mongolian culture. This tour is most suitable for travellers who highly value comfort during their holidays and prefer less driving.

7 days, from £3,495