Mongolia in Winter - Land of Ice, Snow and Winter Festivals (MN-09)
This exciting 10-day tour brings together the very best of winter activities and major cultural events of Mongolia taking place every year in March – ice and camel festivals. Mongolia's famous Ice Festival activities include ice sculptures and various traditional sporting activities: ice marathon, ice wrestling, horse sledding, ice driving competition and more. The Camel Festival takes place in the South Gobi and is organised by a local non-governmental organisation with the aim to protect the declining Bactrian camel population. This extraordinary festival allows travellers a unique opportunity to learn more about camels and interact with their nomadic herders. During the festive period you will have a unique opportunity to see local people dressed in traditional winter clothes – fur hats and winter deels. The closing ceremonies will be celebrated with fireworks.

If you are brave enough and are not afraid of cold, do not miss a unique chance to experience these traditional winter events!

Book now

from £1,995 per person,

11 days

Arrival in Ulan Bator and transfer to your hotel.

Day 2. Ulan Bator – Khuvsgul

A short flight to Murun, then drive to the atmospheric frozen lake Khuvsgul. Overnight in a ger camp by the lake.

Enjoy the dramatic opening ceremony of the Ice Festival and the start of the first round of the Ice Marathon. Overnight in a ger camp.

The ice driving competition is the focus of today. We will also watch ice wrestling, horse sledding and horse riding and make a visit to a nomadic family. Spend the night in a ger camp.

Day 5. Lake Khuvsgul - Ulan Bator

Breakfast at the ger camp and then we'll drive back to Murun for the flight back to Ulan Bator. Transfer to a hotel.

Drive to the Chinggisiin Khuree area to attend the Eagle Hunting Festival - eagle hunting competition, horseback archery competition and eagle training demonstration. Drive back to your hotel.

Morning flight to Dalanzadgad - the capital of the south-Gobi. Check in to your gers.

Today is all about camels! Enjoy the race of camels, and in the afternoon visit "the Camel Relay" - competition in catching, taming, training and finally loading a camel with an actual ger. Overnight stay in a camp.

Drive to Dalanzadgad for our flight to Ulan Bator, transfer to your hotel.

Breakfast at the hotel and transfer to the airport.

Click here to view detailed day-by-day itinerary of this tour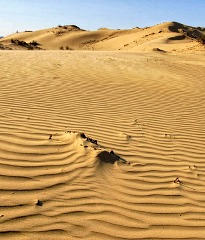 Dalanzadgad - Gateway to the Gobi
Dalanzadgad is the capital of the province of Omnogovi Aimag, located 540 kilometres (340 miles) south of Ulan Bator in the South Gobi. The town is rapidly developing due to mining...
Read more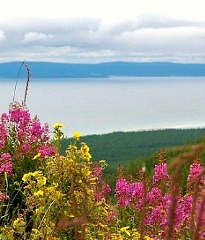 Khovsgol National Park and Lake
Khovsgol National Park is another must-visit outdoors attraction in Mongolia. It was created in 1992 to primarily protect the lake in the park as its fragile ecology has been jeopa...
Read more
Ulan Bator
Capital of Mongolia was formerly called Urga. It was renamed Ulan Bator after a declaration of republic and the abolition of monarchy in 1924. Ulan Bator literally means Red Hero a...
Read more
Tour Inclusions
Not included
Quick Facts
Season

: Winter

Days

: 11

Group Size

: 3-15

Tour Grade

:
Included in the Tour Price
International flights
Our advertised package price is based on economy flights from / to London. If you depart from a regional airport in the UK or another country, there might be additional surcharges for international airfares. Upon booking a tour you will be offered various flight options. Please note, the package price depends on the availability of flight tickets and will be reconfirmed by your travel consultant. The airfare is not guaranteed unless ticketed. We advise to book sooner than later as the airfare may go up closer to your departure date, especially during high seasons.
Accommodation
All accommodation at your destination is included in the holiday price. Hotel category - according to the package type selected.
Guided tours & cultural programme
All tours with entrance fees listed in the itinerary are included in the holiday price. There will be an English-speaking guide on all tours. Please note, we can arrange guides speaking other languages upon request. Please let us know your preferences.
Full-board meals
Full board (breakfast, lunch and dinner) each day. Service begins with dinner on the day of arrival and ends with breakfast on the day of departure. Depending on the itinerary you may be served a packed lunch on your tour. Please advise us if you have any special dietary requirements.
Domestic transport at your destination
All domestic transportation at your destination is included as per the itinerary: air conditioned vehicles, 2nd class train, economy flights if applicable. Any 1st class upgrade for train, higher class for air travel are subject to surcharges. For sightseeing we use a comfortable coach, car or minibus; or can also go on foot.
Airport & railway transfers
All airport and railway transfers as per itinerary are included in the tour price. We will also provide airport transfers if you arrange your own arrival / departure flights regardless of the time of the flight, you will need to let us know your flight details. We operate all transfers 24 hours a day.
Visa fees
Standard visa processing for UK residents is included in the tour price. Upon your booking we email detailed guidance notes how to complete the visa forms. All application packs are checked by our visa department before submission to the relevant consulates. If you are based overseas we will email all required paperwork for you to apply for the visas in the local consulate. Please read more about required visas in the tour description or our country guides on this websites.
Not included
Personal travel insurance
Personal travel insurance is not included in the holiday price. It is advisable to take out your travel insurance at the time of booking your trip as cover will commence for pre-departure cancellation from the policy issue date. You can arrange your personal travel insurance on
our website
.
Optional excursions and services
Optional excursions and services not listed in the itinerary. Please let us know if you wish to book any additional excursions.
Arrival in Ulan Bator and transfer to your hotel. (D).
Day 2. Ulan Bator – Khuvsgul
On day two we will meet our team and drive to Chinggis Khaan Airport. After a short flight we'll arrive to Murun, the centre of Khuvsgul province. Upon arrival, we'll drive to the atmospheric frozen lake Khuvsgul. We will then have dinner and spend the night in a ger camp on the lake shore.(B/L/D).
After a relaxing breakfast, we will enjoy the dramatic opening ceremony of the Ice Festival. We will watch in awe as traditional instruments are played as part of the Mongolian folk music concert and we will also witness a unique shamanic ritual. Today will also mark the start of the first round of the Ice Marathon. During this round, ice skaters will participate in a 100 km (63 miles) race. Our group will have plenty of opportunities for photography and horse riding on the frozen lake. Another highlight is our visit to a nomadic family in the area. After dinner, there is a special ceremony where the foreigner wearing the best Mongolian Deel will be elected and awarded with a medal and a certificate by the office of the province governor. (B/L/D).
The ice driving competition is the focus of today. During this part, local drivers will compete and display their skills. We will also watch ice wrestling, horse sledding and horse riding and make a visit to a nomadic family. After dinner, the closing ceremony will be celebrated with fireworks. Spend the night in a ger camp. (B/L/D).
Day 5. Lake Khuvsgul - Ulan Bator
Breakfast at the ger camp and then we'll drive back to Murun for the flight back to Ulan Bator. Transfer to a hotel. Have a leisurely day in the capital and spend the night at our hotel. (B/L/D).
Meet our team and then drive to the Chinggisiin Khuree area to attend the Eagle Hunting Festival. Here, we will watch the eagle hunting competition, horseback archery competition and eagle training demonstration. Our alfresco picnic lunch will be in beautiful snowy surroundings. After the festival finishes (by 5pm), we will drive back to Ulan Bator and transfer to the hotel. (B/L/D).
Travel to the airport for the morning flight to Dalanzadgad (1.5 hours). The capital of Umnugobi province, this is a semi-arid desert zone in the south-Gobi and it is the southernmost province of Mongolia. It is a wonderful and highly photogenic - not to mention desolate - part of the world. Check in to your gers and enjoy dinner at the lodge. (B/L/D).
Today is all about camels! The competition begins with the race of adult camels, which is followed by the two-year-old camels' race. It is possible to place a bet and back the camel of your choice. The camels are judged on their speed during the 12 km (7.5 miles) and 15 km (9.5 miles) races. The first three camels to cross the finishing line fastest in each age category are awarded with gold, silver and bronze medals respectively. Enjoy lunch in Bulgan Soum. In the afternoon, the most awaited competition begins. This competition is the Camel Relay. It consists of catching, taming, training and finally loading a camel with an actual ger. There are several teams of 5 member and each person performs a different task. The closing ceremony takes place later in the afternoon, where the winners are presented with trophies. This is a truly magical and highly memorable day. Dinner and overnight stay in a camp. (B/L/D).
After an early breakfast we will drive to Dalanzadgad for our return flight to Ulan Bator. Upon arrival in Ulan Bator, transfer to your hotel. (B/L/D).
Breakfast at the hotel and transfer to the airport for international departure. (B).
Want to travel on different dates?
Please see below for our group tour dates, if you would like to travel on a different day, please
let us know
and we will come back to you with an offer. There might be additional surcharges for a private tour but all depends on the number of people in your party and your travel preferences.
COMFORT PACKAGE

| | | | | |
| --- | --- | --- | --- | --- |
| Dates | Excl. flights | Incl. flights * | Single supplement ** | Book |
| 24.02.2024 - 05.03.2024 | £1,995 | £2,895 | £245 | book now |

* Price including flights will be reconfirmed by your travel consultant as we need to know your departure airport, preferred airline, dates and class of travel. Our prices are based on economy fares from London Heathrow.

** Single supplement goes towards single room accommodation at your hotel, ger camp.
Address: Park Hotel, Lhagvasuren street-32, 4th Khoroo, Bayanzurkh, Ulan Bator, Mongolia
Telephone: +976 7015 9900
DESCRIPTION
Park hotel is a newly opened 4* hotel in Ulan Bator, located in the south – eastern part of the Mongolian capital, about 8 kilometres from the central train station and 19 kilometres from the international airport.
Park hotel has 52 rooms, including comfortable and spacious standard twin, king, superior rooms and deluxe junior suites. All rooms are equipped with individually controlled air-conditioning, 32' LCD television, high speed internet access, mini bar, hairdryer. Deluxe junior suite has a bar and extra bathroom for guests.
Park hotel offers 24 hour room service, luggage storage, spa and fitness facilities, currency exchange and business centre services. There is also park restaurant, tequila lounge and a coffee shop. Visa and Master card are accepted.
PHOTOGALLERY
In the countryside your accommodation will be in a typical ger camp located in scenic areas. Every couple or a single traveller are allocated a private ger unless you are willing to share with other travellers. All ger camps are very similar in their set –up, facilities and services.

A "ger" or a yurt is a traditional, portable dwelling structure used by Mongolian nomads in the countryside, it is their link with the past, future and spiritual world. The central pillar – the smoke hole on the top of the tent is directly directed to cosmic axis and represents highway for spirits as according to Mongolian traditions, the universe is full of invisible spirits and humans have to develop good relationship with them, win them over and not to offend them.

Ger camps we use on our tours are slightly modified for Western travellers, however they do offer a genuinely authentic experience and most of them are situated in picturesque areas. The gers are made of a wooden frame that is covered with felt. Inside they are generally brightly painted and feature two or four single beds, a small table, stools, a lamp, electricity sockets and a stove for heating. You can ask a member of staff to start the fire in your ger at a specified time to make it warm, for example early in the morning before you get up.

Toilet and shower facilities are outside in a separate block, they are basic but are kept very clean. There is both hot and cold water available. Restaurants and bars are located in separate blocks or quite often in larger gers.

Staying in a typical ger really adds to your travelling experience.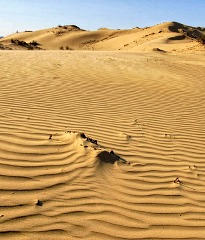 Gobi Desert - unique natural phenomenon
The Gobi is a large desert region in Asia covering much part of southern Mongolia. The Gobi is most notable in history as part of the great Mongol Empire. Great Gobi National Park is also one of the largest world biosphere reservations with an area larger than some European countries. The desert is made up of several distinct ecological and geographic regions based on variations in climate and topography. The Gobi is the source of many important fossil finds, including the first dinosaur eggs and skeletons, it also contains the last remaining wild Bactrian two-humped camels. Travelling in Gobi offers breathtaking views of rocks, red and yellow sand dunes, saxaul forest, oases and incredible emptiness.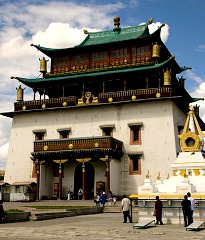 Gandan Monastery
The Gandan Monastery (full name Gandantegchinlen Khiid) is a Tibetan-style monastery in Ulan Bator. It was established in 1835 and is the largest and most significant in Mongolia. Its name translates to the "Great Place of Complete Joy". It was the only place where Buddhist services continued during the communist years and fortunately it escaped the mass architectural destruction of 1937. The monastery was restored and revitalised since 1990.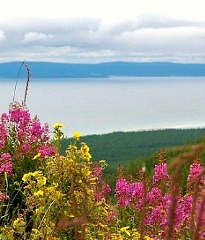 Khovsgol National Park & Lake - outstanding beauty
Lake Khovsgol is the largest fresh water lake in Mongolia, and it is often nicknamed "Younger sister of the Lake Baikal in Russia". Khovsgol National Park was established in 1992 around the lake with the primary focus to protect the area. The lake is surrounded by several mountain ranges. Khovsgol is one of the most spectacular places in Mongolia and it is a photographer's dream with its mountain peaks, lush lakeside meadows, taiga and forest steppe and abundant wildlife.