Bukhara
Bukhara is one of holiest cities in Central Asia and was once the intellectual and spiritual centre of Islamic world. Bukhara entered history in 500BC as a vassal state of the Persian Empire. When Islamic armies arrived in 650AD, they found a multi-ethnic and multireligious state; after their conquest in the next century, Islam became the dominant religion and remains so to the present day. Owing to its strategically important location Bukhara was one of the main trading centres of the Silk Road. During its heyday it had 365 mosques – one for each day of the year. Later it became a pawn in the "Great Game" between Russia and Britain. Bukhara is in UNESCO's World Heritage list.

You will undoubtedly be impressed by Bukhara's elaborate mosques, winding alleys, caravanserais and splendid madrasahs. Kalyan minaret was once the tallest minaret in the Islamic world. Other attractions are the Kalyan mosque, the famous Mir-i Arab Madrassah, and Samanid's Mausoleum – known as the pearl of the East, and many other astonishing places.
A Classic Silk Road Trip to Uzbekistan - Visit Tashkent, Samarkand, Bukhara, Khiva (SR-04)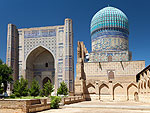 Our classic Silk Road trip to Uzbekistan – to the heart of the Central Asia - will take you through the complex passages of history, exploring the very essence of the Silk Road's cultural and spiritual legacy, unearthing its hidden treasures from beneath the layers of centuries.

7 days, from £945
Best of Kyrgyzstan: Discover Finest Lakes, Steppe Land & Historic Towns – 8 days (SR-05)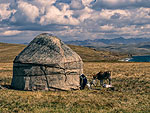 Kyrgyzstan is the heart of Central Asia with unbeatable mountain landscapes, shepherd cultures, nomads and rolling summer pastures. Of all the countries in Central Asia Kyrgyzstan with its visa-free travel, network of homestays and souvenirs for sale, is the easiest for westerners to travel in.

8 days, from £895