Karakol
The fourth largest city one of Kyrgyzstan's major tourist destinations, serving as a good starting point for the excellent hiking, trekking, skiing and mountaineering in the high central Tian Shan to the south and east.

There is a Dungan mosque here named after Ibrahim Aji who initiated the construction. He invited the famous Beijing architect Chou Seu and 20 carvers and used traditional Chinese architecture and techniques for building the mosque. During the Soviet era, the mosque was used as a storehouse, but in 1947 the building was given to the Muslim community to use it as a mosque.

Another city landmark is Russian Orthodox cathedral. When Karakol was a garrison town - an outpost on the edges of the Tsarist Russian Empire, Karakol church was destroyed by the earthquake of 1889. It took six years to complete, and during this construction period, the yurt was used as church. Over the years, Karakol Church was used as an educational centre, school, ladies' gymnasium, sports hall; a theatre and even as coal store. After the collapse of the Soviet Union and Independence of Kyrgyzstan, the local authority gave back the church to believers.

There is also Przhevalskii museum. Nikolai Mikhaylovich Przhevalsky was a Russian geographer and explorer of Central and Eastern Asia. He discovered the only extant species of wild horse named after him.
A Classic Silk Road Trip to Uzbekistan - Visit Tashkent, Samarkand, Bukhara, Shakhrisabz, Khiva (SR-04)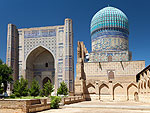 Our classic Silk Road trip to Uzbekistan – to the heart of the Central Asia - will take you through the complex passages of history, exploring the very essence of the Silk Road's cultural and spiritual legacy, unearthing its hidden treasures from beneath the layers of centuries.

7 days, from £895
Best of Kyrgyzstan: Discover Finest Lakes, Steppe Land & Historic Towns – 8 days (SR-05)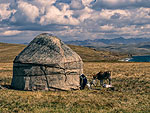 Kyrgyzstan is the heart of Central Asia with unbeatable mountain landscapes, shepherd cultures, nomads and rolling summer pastures. Of all the countries in Central Asia Kyrgyzstan with its visa-free travel, network of homestays and souvenirs for sale, is the easiest for westerners to travel in.

8 days, from £895