Cholpon Ata town
A resort town on the northern shore of Lake Issyk-Kul in Kyrgyzstan with a year-round population of about 12,000. It is the administrative centre of the Issyk Kul District of Issyk Kul Province.

The town contains numerous large and small sanatoria, hotels and guesthouses to accommodate the many visitors who descend upon the lake in summer. During the Soviet era it was much frequented by vacationers brought here in organized mass tours from other parts of the USSR. Holidaymakers now usually visit on their own or in small groups and originate mainly from Kyrgyzstan, Kazakhstan and Uzbekistan.

Cholpon-Ata is the centre of the resort area of the northern coast with the best beaches and the most developed tourism infrastructure. The area is rich in mineral waters (chloride-sodium-calcium compound) which is used to treat various diseases.
A Classic Silk Road Trip to Uzbekistan - Visit Tashkent, Samarkand, Bukhara, Shakhrisabz, Khiva (SR-04)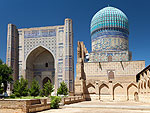 Our classic Silk Road trip to Uzbekistan – to the heart of the Central Asia - will take you through the complex passages of history, exploring the very essence of the Silk Road's cultural and spiritual legacy, unearthing its hidden treasures from beneath the layers of centuries.

7 days, from £895
Best of Kyrgyzstan: Discover Finest Lakes, Steppe Land & Historic Towns – 8 days (SR-05)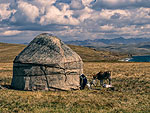 Kyrgyzstan is the heart of Central Asia with unbeatable mountain landscapes, shepherd cultures, nomads and rolling summer pastures. Of all the countries in Central Asia Kyrgyzstan with its visa-free travel, network of homestays and souvenirs for sale, is the easiest for westerners to travel in.

8 days, from £895