Jety-Oguz gorge
The Alpine health resort Jety-Oguz lies near the river at the altitude of 2,200 m. Situated in a picturesque canyon on the Northern slope of the Terskey Ala-Too range about 25 km South West of Karakol. It is a lovely place for one day walk and at the same time for many day treks, starting from easy form and up to the hardest. It is the place where you can see the real life of Kyrgyz people and walk along the gorge, visit nomad's yurt. Jety-Oguz gorge is well known for its striking red sandstone rock formations ("Seven Bulls" from which the valley takes it name) - one of the most beautiful places in Kyrgyzstan.
A Classic Silk Road Trip to Uzbekistan - Visit Tashkent, Samarkand, Bukhara, Shakhrisabz, Khiva (SR-04)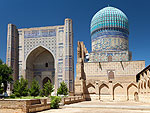 Our classic Silk Road trip to Uzbekistan – to the heart of the Central Asia - will take you through the complex passages of history, exploring the very essence of the Silk Road's cultural and spiritual legacy, unearthing its hidden treasures from beneath the layers of centuries.

7 days, from £895
Best of Kyrgyzstan: Discover Finest Lakes, Steppe Land & Historic Towns – 8 days (SR-05)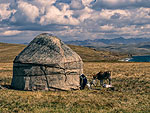 Kyrgyzstan is the heart of Central Asia with unbeatable mountain landscapes, shepherd cultures, nomads and rolling summer pastures. Of all the countries in Central Asia Kyrgyzstan with its visa-free travel, network of homestays and souvenirs for sale, is the easiest for westerners to travel in.

8 days, from £895