Issyk-Kul Lake
With its high location at 1,609 m above sea level and a huge surface area of 6,206 sq. km (179 km long and 60 km wide) Issyk-Kul is the second largest alpine lake in the world after Lake Titicaca in South America. Despite its location at such a high altitude the lake never freezes, hence the name - Issyk-Kul which means "hot lake" in Kyrgyz. The waters of 134 rivers flow into this unique lake. With no rivers flowing out of Lake Issyk-Kul the mineral substances carried here by the rivers and rains are all accumulated in it. Since ancient times, Issyk-Kul has been renowned for its healing mineralised water, its hot springs and the medicinal mud used for treating many diseases. Lake Issyk-Kul still keeps many secrets. Recently some reports were released about an astonishing discovery of ruins at the bottom of the lake. The ruins are of the ancient city of Chigu, the capital of the Usuni State and the trade centre of the Tian Shan on the Great Silk Road and date back to the 2nd century BC.
A Classic Silk Road Trip to Uzbekistan - Visit Tashkent, Samarkand, Bukhara, Shakhrisabz, Khiva (SR-04)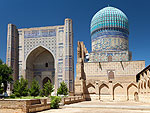 Our classic Silk Road trip to Uzbekistan – to the heart of the Central Asia - will take you through the complex passages of history, exploring the very essence of the Silk Road's cultural and spiritual legacy, unearthing its hidden treasures from beneath the layers of centuries.

7 days, from £895
Best of Kyrgyzstan: Discover Finest Lakes, Steppe Land & Historic Towns – 8 days (SR-05)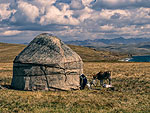 Kyrgyzstan is the heart of Central Asia with unbeatable mountain landscapes, shepherd cultures, nomads and rolling summer pastures. Of all the countries in Central Asia Kyrgyzstan with its visa-free travel, network of homestays and souvenirs for sale, is the easiest for westerners to travel in.

8 days, from £895