Son Kul Lake
Song Kul Lake (literally meaning the "following lake") is an alpine lake in northern Naryn Province lying at an altitude of 3,013 metres. It is the second largest lake after Issyk-Kul, and the largest fresh water lake in Kyrgyzstan. It has an area of about 270 km2 with maximum length of 29 km and breadth of about 18 km, the lake depth is 13.2 m. Song Kul is surrounded by summer pastures and mountains. The area is inhabited and is safely accessible by unpaved roads only from June to September.
A Classic Silk Road Trip to Uzbekistan - Visit Tashkent, Samarkand, Bukhara, Shakhrisabz, Khiva (SR-04)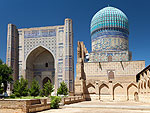 Our classic Silk Road trip to Uzbekistan – to the heart of the Central Asia - will take you through the complex passages of history, exploring the very essence of the Silk Road's cultural and spiritual legacy, unearthing its hidden treasures from beneath the layers of centuries.

7 days, from £895
Best of Kyrgyzstan: Discover Finest Lakes, Steppe Land & Historic Towns – 8 days (SR-05)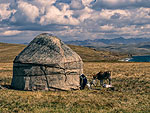 Kyrgyzstan is the heart of Central Asia with unbeatable mountain landscapes, shepherd cultures, nomads and rolling summer pastures. Of all the countries in Central Asia Kyrgyzstan with its visa-free travel, network of homestays and souvenirs for sale, is the easiest for westerners to travel in.

8 days, from £895