Khiva
Often called an "open air museum", Khiva today is a well-preserved and restored town thanks to a conservation programme in 1970 - 1980. This enchanting town with its towering minarets and domed roofs will capture your imagination as soon as you enter its gates. You will enjoy getting lost wandering through its maze of narrow streets passing mosques, madrasahs (Islamic religious schools) and caravanserai (old overnight stops for caravans) and becoming engulfed in its mystical past.

Khiva consists of two parts. The outer and more modern town - Dichan Kala, was formerly surrounded by a fortified wall with 11 gates.

The inner town, or Itchan Kala, is protected by 2.2 km long brick wall, whose foundations are believed to have been laid in the 10th century. The old town boasts more than 50 historic monuments and 250 old houses, mostly dating from the 18th or the 19th centuries. The Kalta Minor or Short Minaret - was built in 1852: one of the most ambitious projects of the ruling Khan. It was intended to be the tallest minaret in the Islamic world so that the Khan could see all way to Bukhara. Its construction was abandoned at 26 metres because of the Khan's death.

The Islam Khodja Madrasah and Minaret both built in 1910 are the newest monuments in Khiva. The madrasah houses what is probably Khiva's best museum - the museum of handicrafts. Here you will find fine wood carving, hand embroidery, carpets, household utensils, pottery and traditional Uzbek clothes.

Tash Khauli (Harem) has the most striking architectural decoration in the city: ceramic tiles, carved marble and painted wood.

Khiva is beautiful at dawn or at the twilight – don't miss your chance of capturing the best pictures of your journey! The town is included in UNESCO's World Heritage list.
A Classic Silk Road Trip to Uzbekistan - Visit Tashkent, Samarkand, Bukhara, Khiva (SR-04)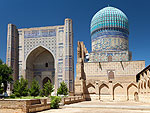 Our classic Silk Road trip to Uzbekistan – to the heart of the Central Asia - will take you through the complex passages of history, exploring the very essence of the Silk Road's cultural and spiritual legacy, unearthing its hidden treasures from beneath the layers of centuries.

7 days, from £945
Best of Kyrgyzstan: Discover Finest Lakes, Steppe Land & Historic Towns – 8 days (SR-05)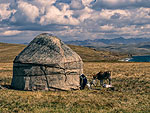 Kyrgyzstan is the heart of Central Asia with unbeatable mountain landscapes, shepherd cultures, nomads and rolling summer pastures. Of all the countries in Central Asia Kyrgyzstan with its visa-free travel, network of homestays and souvenirs for sale, is the easiest for westerners to travel in.

8 days, from £895