Samarkand
Samarkand - often called the Gem of the East – is the city which evokes romance just with its name. The city is as old as Rome and reached the height of its fame under the rule of Timur. He made Samarkand the capital of his grand Empire which stretched from south-eastern Turkey through the Middle East and Central Asia including North-Western India to the approach to Kashgar in China. During his reign, Timur built a new city and populated it with artisans and craftsmen from the places he had conquered. They created striking harmonies of perfection between the mausoleums, madrassahs, mosques and city squares. Conquered and destroyed many times Samarkand has risen from the ashes each time like a Phoenix. You can feel the grandeur of the old city, when you catch a sudden view of the Bibi Khanum Mosque (15th century), the largest of its time in the world, standing beside a noisy and crowded oriental market. Registan Square –"Sandy Place" - was the heart of ancient Samarkand, the centre of trade and cultural life, a breathtaking oriental masterpiece with three blue madrasahs. Shah-i-Zinda – "tomb of the living king" - is a burial complex, often referred to as "the street of the dead". It is considered one of the holiest places for Muslims, an important place of pilgrimage. The Gur-Emir Mausoleum is the resting place of the military genius Amir Temur who is buried here along with several of his sons and one of his grandsons. It is a fine example of Timurid architecture; simplicity and harmony of shapes together with a sumptuously decorated interior.
A Classic Silk Road Trip to Uzbekistan - Visit Tashkent, Samarkand, Bukhara, Khiva (SR-04)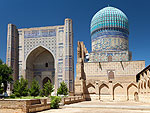 Our classic Silk Road trip to Uzbekistan – to the heart of the Central Asia - will take you through the complex passages of history, exploring the very essence of the Silk Road's cultural and spiritual legacy, unearthing its hidden treasures from beneath the layers of centuries.

7 days, from £945
Best of Kyrgyzstan: Discover Finest Lakes, Steppe Land & Historic Towns – 8 days (SR-05)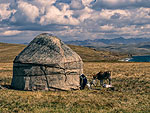 Kyrgyzstan is the heart of Central Asia with unbeatable mountain landscapes, shepherd cultures, nomads and rolling summer pastures. Of all the countries in Central Asia Kyrgyzstan with its visa-free travel, network of homestays and souvenirs for sale, is the easiest for westerners to travel in.

8 days, from £895