Shakhrisabz
Shakhrisabz - the birthplace of Tamerlane, or Timur and his residence during his reign - is probably one of the most unassuming of the tourist attractions, where locals still wander amongst the historic landmarks. Most of the landmarks are in ruins, it is not like Khiva, but it feels more authentically historical. Ak-Sarai, literally the "White Palace", which was the greatest of Tamerlane's palaces. It was built by artisans of Khorezm after Tamerlane had destroyed Kunya Urgench and deposed its rulers in 1379.
A Classic Silk Road Trip to Uzbekistan - Visit Tashkent, Samarkand, Bukhara, Shakhrisabz, Khiva (SR-04)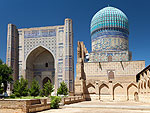 Our classic Silk Road trip to Uzbekistan – to the heart of the Central Asia - will take you through the complex passages of history, exploring the very essence of the Silk Road's cultural and spiritual legacy, unearthing its hidden treasures from beneath the layers of centuries.

7 days, from £895
Best of Kyrgyzstan: Discover Finest Lakes, Steppe Land & Historic Towns – 8 days (SR-05)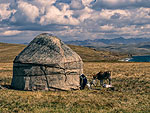 Kyrgyzstan is the heart of Central Asia with unbeatable mountain landscapes, shepherd cultures, nomads and rolling summer pastures. Of all the countries in Central Asia Kyrgyzstan with its visa-free travel, network of homestays and souvenirs for sale, is the easiest for westerners to travel in.

8 days, from £895